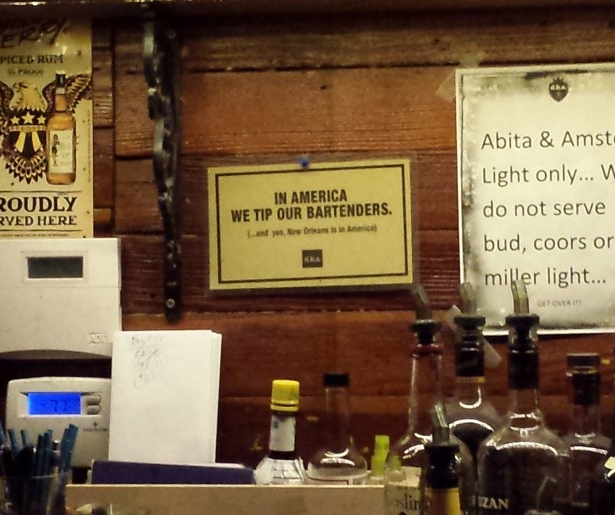 SHARE
I was in d.b.a. the other night, surrounded by foreign accents, when I noticed the above sign posted behind the bar.
It's a good reminder for overseas visitors who may be in town for Jazz Fest, but I feel the need to hit the point home in an online space: service industry professionals are not paid enough to make a living. In the USA, waiters, waitresses and bartenders live on their tips. There are complicated reasons we tip (ironically, this American tradition, which seems to confound so many Europeans, was imported from Europe), and the practice has many critics.. But it's not our place to debate the ins and out of tipping here. Rather, we're going to tell you how to tip if you haven't tipped before or you're out of practice.
Here's the long and short of it: if you're at a restaurant, tip 18 percent of the bill for acceptable service. Yes: acceptable. It used to be 15 percent, but that low of a number has fallen out of practice. These days, 18 percent is industry standard. If you have a calculator – and if you have a phone, you have a calculator – it's an easy number to figure out. Tip 20% for good service. And if you're in a large dining party (usually, over six), you may find tip has automatically been worked into your bill (ask your server).
With bartenders: a dollar or two is good if the bartender is just cracking open beers.You don't have to tip on every round if it's just beer (although many people do), but a tip per hour of time at the bar is nice. If the bartender is making a complicated mixed drink, you should tip a few dollars every time you order a cocktail. The easiest way around all this is to open a tab and tip around 20% at the end of the night.
If you order takeout, you should tip the delivery person $3-5. For cab drivers, round up to an easy to pay number – if the fare is $13.50, I give $15 and tell them to keep the change. Anyone carrying your luggage should get a dollar per bag. And when the tip bucket goes around after a musician plays a set, you should always stuff a few dollars in.
We know all of the above may seem a bit archaic, but the service in New Orleans is of exceedingly high quality, and the people bringing you that service deserve compensation for their labor. Enjoy Jazz Fest!