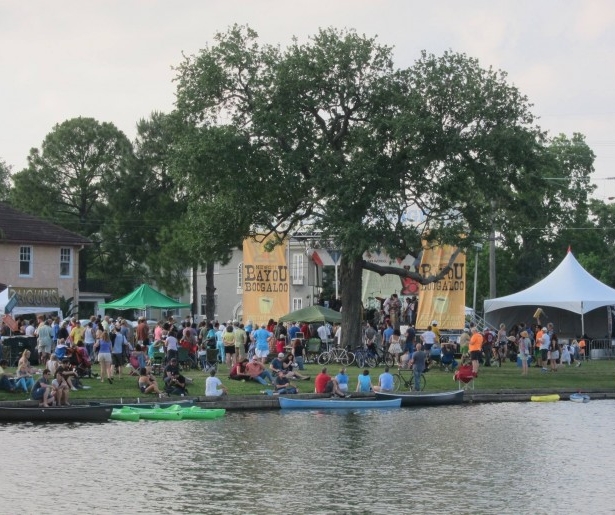 SHARE
I love a good party as much as the next person, but like many cash-poor locals, I swore off Jazz Fest years ago. Between the camping chairs staked out in front of the big name acts and the Gobi-like terrain, I'll save the track for racing season.
But I get excited for Bayou Boogaloo, even if I always sleep through its signature bicycle pub crawl. Along the grassy banks of Bayou St. John, this festival gives you a chance to eat fish tacos and jam to acts like Big Freedia without forking over a week's paycheck. This year's Boogaloo kicks off this weekend, from May 16-18
"During the [Katrina] evacuation, I had the idea that we could use this free festival to help revitalize the neighborhood," Jared Zeller, festival founder, says. "We've grown in attendance, programming, caliber of musicians, caliber of art, and number of activities for kids and families."
After nine years, the fest's events still brighten a neighborhood once in low spirits after it took on some serious water. I suppose you could float a rubber duck down the bayou at just about any time, but a rubber duck derby turns an eccentric pastime into a competitive sport. Over the weekend, kayak rentals, outdoor yoga, and an 11-mile bike ride (thankfully, not the pub crawl) all make use of the bayou as a public space.
"We're really just trying to encourage people to get outdoors and recreate, and Bayou St. John is a great place to do that, whether it's riding a bicycle, canoeing, walking your dog, whatever," Zeller says. "That's part of our mission with [the festival's organizing group] the MotherShip Foundation."
This year, Zeller promises bigger music acts, more food demonstrations from local chefs, farmers and mixologists, and enhanced services in the VIP area. Though the festival itself is free, Canopy Club VIP access includes free refreshments, comfortable seating, and better amenities. At $100 for a weekend pass, it's not cheap, but might be worth it if you wish to adjourn to an air-conditioned toilette.
With great music, snacks like last year's memorable peanut butter and bacon crepe, and artwork that stands up to any big-time or Bywater operation, it's easy to forget that Bayou Boogaloo is a mostly volunteer operation. Zeller still has a day job, and a part-time staff scrambles to put together the growing festival and handle its charitable activities during the rest of the year.
As we fest-goers kick back with a few beers at the edge of the bayou, Zeller wants us to share his team's community spirit.
"We always encourage people to bring their bicycles, to join the rubber duck derby, to get involved in the events…a free festival allows the whole community to experience public art," he says.
Image courtesy of Charlie London and Bayou Boogaloo.