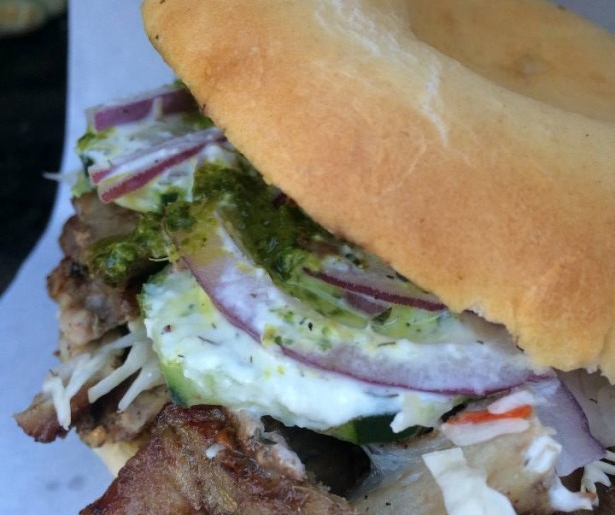 SHARE
Last week, the much anticipated doner kebab sandwich shop, Kebab, gave the Marigny and 9th Ward a sneak peak of its gallery space as well as a first taste of their self-proclaimed "European drunk food" menu. Second Saturday art walk participants were treated to a wide array of environmentally conscious art (part of the 1st Annual Wetlands Art Tour), as well as free pork, chicken, and portabello mushroom skewers, all drizzled in tzatziki sauce. A donor kebab, by the way, is grilled lamb (or chicken or falafel or whatever, really) cut into strips, wrapped in a pita with vegetables and sauced with a variety of condiments.
So of course the big question is: how'd it taste? In a word, delicious. One half of the ownership duo (of Pizza Speakeasy fame), Walker Reisman, manned a sidewalk grill in front of the restaurant while hungry onlookers tried samples; the reactions were all smiles and appeased "mmhm's" of satisfaction. The portabello skewers were my personal favorite. Reisman also provided a draft of the budget-friendly menu, which is short and focused, with options of falafel, sandwiches (all under $7), beet fries, baklava, homemade sauces, vegan-friendly and gluten-free options, and more.
The restaurant space, formerly Henry's Bakery and Deli, is split in two, with a about a third of it sectioned off as the art gallery/community center, and the other two-thirds reserved for eating in. Five tables and several lunch-counter stools along the middle wall and in the back by the kitchen provide ample room for dining. It's an intimate enough space to be inviting, but not so small that you'll ever knock elbows with other eaters.
At the sneak peak event, the other half of Kebab's ownership, Benjamin Harlow, poured refreshments and answered questions about the spacious kitchen, which he and Reisman remodeled themselves, mostly with second-hand kitchen materials. It's an impressive layout, spacious and open so patrons can see their dishes as they're made. The pair hopes to put the finishing touches on the kitchen and bathroom to be ready for a post-Memorial day opening, with full hours of operation beginning in early June.
Kebab promises to be a fresh option along St. Claude, a good companion to other notable hotspots like Siberia and Borracho. The unique combination of an art space and traditional Mediterranean.late-night Berlin fare that's open late (hours are tentatively 3pm-12am) should fit the area's clientele perfectly. Kebab also plans to offer local delivery and daily happy hours from 3-6pm with various $5 small plates.
Keep up with Kebab's progress on their Facebook page (they provided the above photo too).