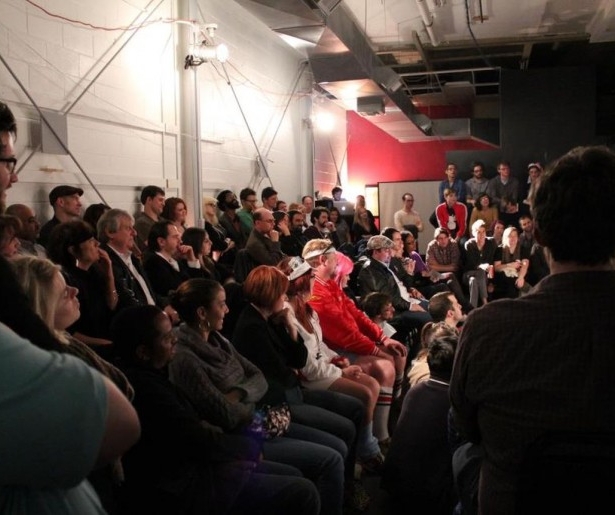 SHARE
In the early 1990s in London, England, a musical movement briefly gained notoriety. Known as 'The Scene That Celebrates Itself', the bands involved would promote rather than rival each other, turn up at each other's gigs and even trade band members. They didn't require or seek approval, and their attitude and camaraderie charmed fans and journalists.
Parallels can be drawn around the current comedy scene in New Orleans, a flock of performers peppered across the discipline's gamut, from stand-up to improv to web sitcoms to cabaret. Even in the shadows of such an overwhelmingly musical city, it's already successfully celebrating itself nicely, thank you very much.
Leon Blanda is a local comedian and promoter, and says that from embryonic beginnings, comics quickly improved. "Instead of leaving for L.A. or N.Y.C. they would stay and produce work uninfluenced by fame or exposure," he says. "It is a scene created out of its own brilliance. No one taught us how to run mics or produce shows. We just did it."
Until recently, you had to look hard to find regular stand-up comedy in New Orleans outside of touring comics in the casinos. Now you can see an open mic or similar show every single night, in venues across town.
Ariel Elias has performed at most of them over the last couple of years. "Each show pulls a different crowd," she says. "The Tuesday and Thursday shows at the House of Blues are probably the closest we get to a comedy club audience and crowds can depend on what convention is in town."
Elias describes the mic at The Hi-Ho pulling in hipsters and gutter punks, or Siberia's nights attracting intense heavy metal fans. Carrollton Station gets a younger, college crowd, being so close to Tulane and Loyola.
The House of Blues shows are Blanda's nights. "I've hosted them both for almost four years," he says. "Tuesday (Give 'em the Light) is an open mic, and Thursday (All-Star Comedy Revue) is a feature show. They're my bad kids. I love them, no matter what."
Blanda also performs at other promoter's nights, naming Andrew Polk's NOLA Comedy Hour and Comedy Beast as his favourites, as well as Cassidy Henehan's Comedy Catastrophe.
Both Polk and Henehan work hard at the coal face to maintain the scene's momentum. Pugnacious ironist Polk is a lesson in self confidence and has already caught the attentions of name touring comics for support slots. Henehan is a cynically sanguine local whose vocal passion for New Orleans comedy is unswerving. Both are experienced and very funny and play several times a week for free.
Working these bar room mics is a tough learning curve. "It's like learning how to ski on Mount Everest," says Elias. "You're going to get your ass kicked, but if you survive, you're going to be a much better skier than someone who learned on the bunny slopes. Sorry. I've been watching a lot of Winter Olympics."
The scene has much else to celebrate. On any one night you might see anything from the unabashed showmanship of Corey Mack to savvy newcomers such as Jon Reaux and Will Poznansky. There are nights such as Comedy Gumbeaux, run by Nature Boy and Red Bean at the Howlin' Wolf Den and at last, informal places for nationally-recognized talent to go up when they're passing through town.
Improv boot camp the The New Movement promotes a wealth of stand up every year at their Hell Yes Fest and TNM founder Chris Trew admires local talent for their versatility. "We're a Swiss Army Knife-type bunch," he says. "The best people here do a bit of everything. This guy hosts a stand up show and has a podcast. This gal is in an improv group, she writes sketch comedy and started hitting open mics to try standup."
Comedy is spreading out in New Orleans. It's at midnight on a Friday in the back of Buffa's. It's on locally-produced web series such as Sunken City and Least Favorite Love Songs. It's even complementing local burlesque and cabaret shows, such as the Dirty Dime Peep Show and Clue. This wide exposure brings people to the pure stand up nights, and the scene can thrive.
The most respected local talent is still celebrating itself. "Anything good that happens for one comedian is good for the entire scene," says Ariel Ealias. "When you hear that one local comedian is, say, touring with Todd Barry, you don't think, "Good for them, but it should have been me." You think it's fantastic and can't wait for it to be your turn."
And that's a punchline you perhaps won't hear in New York or L.A.
For more information, check out our Insider Guide to the city's comedy scene.