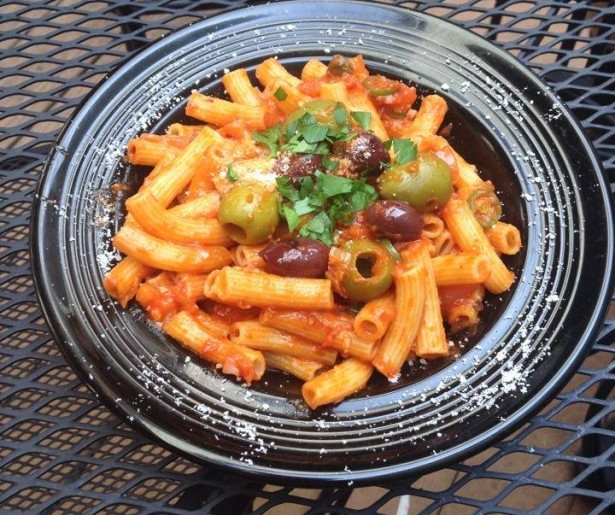 SHARE
I guess there's a silver gastronomic lining to every culinary dark cloud.
About a month ago, Borracho, one of the best spots for drunk food in the city, located in the back of Kajun's (one of the best spots for drunken karaoke singing in the city), closed its doors. Social media seemed to indicate the shut down was only or the summer, but rumors swirling amidst staff suggested otherwise.
Well, now we have a sense the closure may be a bit more enduring. Scuttlebutt is, Italian pop-up Arabella Casa Di Pasta will taking over the space at 2258 St Claude at the beginning of June (they've already switched the address on their facebook page).
What does this mean? On the downside, no more fried chicken livers, my former favorite entrée at Borracho. On the upside, some serious fresh pasta, because afterf watching a guy slam thirteen beers and slur out The Humpty Dance, nothing goes better than a bit of al dente linguine. I'm only half joking. In another life, I was Italian; I like a bit of pasta with my off-key singing.
Arabella's arrival also heralds the introduction of a different class of St Claude restaurant. There's great food all along St Claude Ave, but it's traditionally been served in a rowdy at most, and DIY-ish at least setting. But things are changing. Faubourg Wines is one sign, but for all its hip wine and cheese shop spirit, it's not a sit-down restaurant. Fatoush is clean and bright, but it fits into and feels like a part of the Healing Center it is located in. Arabella, on the other hand, has formerly operated as a candlelight and tablecloth joint, which is decidedly outside of the Kajun's wheelhouse. Maybe the owners will change the atmosphere up a little – I expect they'll have to – but the introduction of the restaurant still feels like a softer touch then what we're accustomed to on quickly gentrifying St Claude Ave. We wish them luck, and to their customers, many delicious meals.
Image courtesy of Arabella Casa Di Pasta.