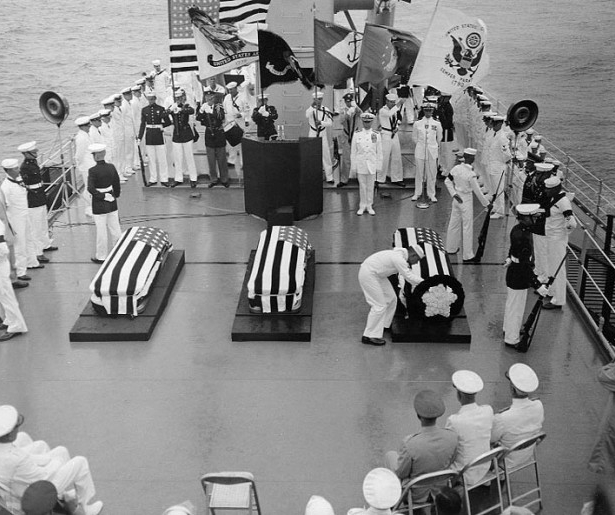 SHARE
We hope you're having a good Memorial Day. And while it's been said before, it also bears repeating; this isn't just a day for firing up the grill and getting outside. Take a moment, or preferably more, to remember those who have made the ultimate sacrifice for your nation and freedoms.
To that end, the city's own National World War II Museum has created an excellent resource – My Memorial Day – which highlights some of the their vast archive of resources and materials. The museum has done a bang up job of using the latest in web design to personalize just some of the stories of those who perished in World War II.
Enjoy this lovely late spring day, but when you can, have a look at the above and remember the reason you have the day off – among many, many other things.
The image above was taken exactly 56 years ago. Hospitalman William R. Charette, who received the Medal of Honor for heroism in the Korean War, selects the Unknown Serviceman of World War II, during ceremonies on board USS Canberra (CAG-2), on May 26, 1958. The other World War II Unknown Serviceman candidate's casket is at left, with the Unknown Serviceman of the Korean War in the middle. After completion of the selection ceremonies, the World War II and Korean War Unknown Servicemen were carried to Washington, D.C., for burial at Arlington National Cemetery. The other World War II Unknown was buried at sea. Image courtesy of Wikimedia commons.