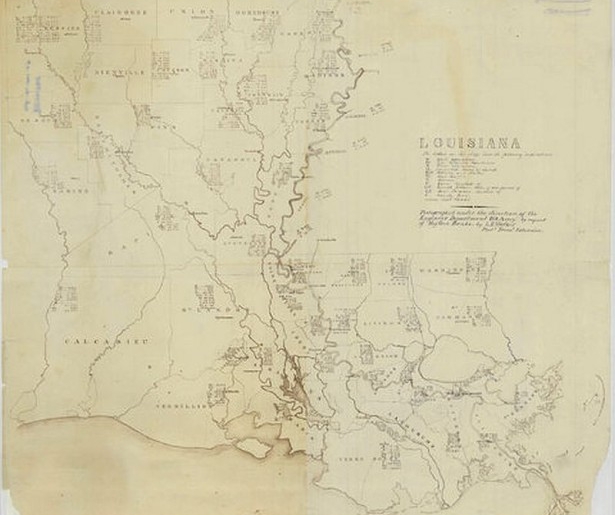 SHARE
We're big fans of finding historical minutiae that relates to our historical city on the river, and this piece& from the New York Times is one of the most fascinating to come across our desk in awhile.
It's an article on a recently dug up map that demonstrates how back in the day – 'the day,' in this case, being Civil War era Louisiana – people were using census information to plot out public policy and strategy. The map in question was found within the National Archives, unsigned and undated.
… the emphasis is on parish boundaries, within which are listed free and slave populations alongside data about resources, from swine to ginned cotton…With this information, officers and administrators moving through the state could locate the richest parishes, the largest sources of labor and the easiest means of river and rail transportation.
The officers in question would have been Union soldiers stationed in Louisiana, and they required this information because they needed to determine, in the words of the article, "how to control and administer a conquered region where nearly half the population was no longer strictly enslaved, but which was largely exempt from the Emancipation Proclamation." As the story points out, this may be one of the last maps in the country that used the term 'slave.'
You should read the whole piece. It's a fascinating story that contains within a narrative of how this state functioned as a split entity during the Civil War, as well as the outlines of the saga of a people enslaved, freed, conscripted (sometimes unwillingly) and made to sharecrop in conditions similar to their enslavement. If you've any interest in this state's history, take a look.
Map image courtesy of The New York Times and the National Archives and Records Administration in College Park, Maryland.