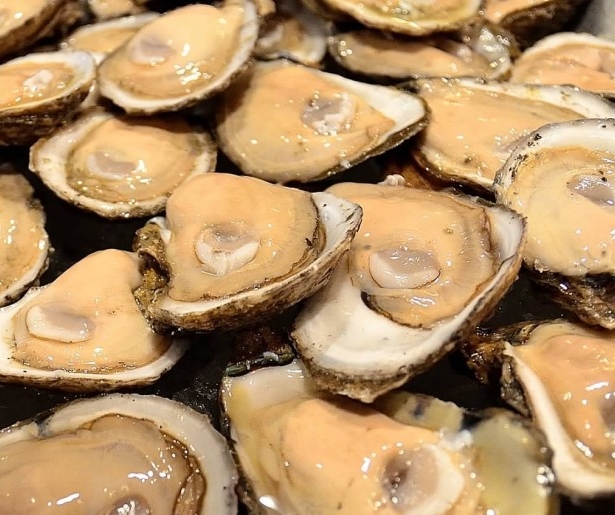 SHARE
This weekend, the New Orleans Oyster Festival returns to celebrate a Louisiana culinary staple, the oh-so-delicious oyster. The free festival, now in its fifth year, allows locals and tourists a chance to enjoy the most savory of seafood treats, while also soaking in the last days of spring weather before the inevitable arrival of triple-digit summer heat. Throughout the weekend, nearly two dozen local restaurants will offer oyster-centric cuisine that includes oyster po-boys, oyster boudin, grilled oysters, oyster pie, and much more. The event also includes live music and several wildly entertaining eating competitions, such as the popular Acme Oyster Eating Contest.
Oyster Fest has grown considerably since its inception in 2010 by representatives of the Louisiana oyster industry. Spokesman Jeffrey Ory explained that it used to take place in the parking lot off Decatur St. near the shops at Jax Brewery, but since "black tops are not the most comfortable spaces to be on top of in the heat," the festival eventually moved to greener terrain at Woldenberg Park (1 Canal St.). It's the perfect space for an intimate outdoor event, with picnic areas and a terrific view of the Mississippi River, which often rewards festival-goers with a cool breeze off the water.
Ory went on to explain that an early June festival in New Orleans bolsters activity in the French Quarter before tourism wanes over the hot summer months, while also reminding folks that oysters don't necessarily have an off season. "We want to reverse the common misperception that oysters are only good during months with 'R' in the name," said Ory. "Oysters are good and plentiful year around."
Festival organizers center the event around a large tented dining area in the middle of the park, complete with giant fans to keep the air blowing, and easy access to beer and food vendors. And while the food may be the main attraction, Oyster Fest also has some terrific musical acts on the bill, including local favorites The Honey Island Swamp Band (Saturday, 3:45pm) and brass funk-rock mainstays Bonerama (Sunday, 3pm). A full lineup can be found here.
The main events, however, are the food-centric competitions. On Saturday at noon, the areas best oyster shuckers compete in the P&J Oyster Shucking Contest to see who can shuck the fastest without sacrificing accuracy and, of course, cleanliness. Then, on Sunday at 11:45am, is the Acme Oyster Eating Contest, a competition that includes major league eaters slurping dozens of oysters in a matter of minutes. Last years winner, Sonya "The Black Widow" Thomas, won by eating 24 dozen oysters! Expect a similar spectacle this year.
Oyster Fest vendors run the gamut in terms of types of restaurants. There's fine-dining participants such as Antoine's and Galatoire's, as well as other local staples like Jacque-Imo's or Drago's. "A lot of the dishes at the festival are not on the typical restaurant menu," said Ory. "But the one thing all participating restaurants have in common is that they all serve oysters."
Of course, for those few poor souls that don't care much for oysters, vendors will offer plenty of other seafood or classic local dishes. Take a look at the full roster of restaurants, including their offerings, here. Prices range from $3 tot $8 for most dishes.
The proceeds raised from Oyster Fest go to local oyster harvesters, coastal restoration efforts, and various french quarters businesses. Organizers are just as dedicated to supporting the Louisiana oyster industry as they are to satisfying as many seafood loving appetites as possible.
New Orleans Oyster Festival 2014
Saturday, May 31st and Sunday, June 1st
Woldenberg Park (1 Canal St.)
Free Admission
For more information, visit the festival website at neworleansoysterfestival.org.