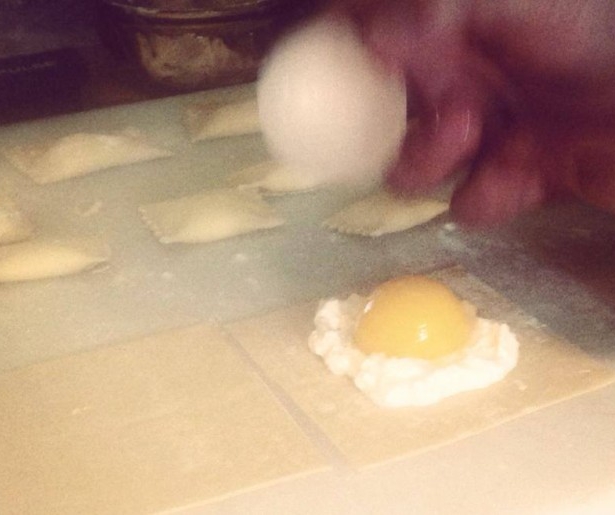 SHARE
There's a new pop-up in town, and it's predictably delicious.
Last night, I joined some friends and a packed crowd at Faubourg Wines for the grand rollout of the Four Calendar Café. I suppose grand rollout is a slight misnomer; the restaurant made a sneak preview at a Propeller event in late May, but as an open to the public dinner, this was Four Calendar's first birthday.
Four Calendar, with its hand-written menus and ready wine advice, fits the simultaneously down-at-heels yet hip and localvore sensibility I've come to expect of new businesses along the St Claude corridor. But it's also a departure from previous norms. The restaurant is run by culinary couple Matt Hayashi (a chef at The Joint) and Amie Marvel (who conducts cheese classes at Faubourg Wines, and, full disclosure, has written for this site in the past), who were, until recently, manning Dim Sum and Then Some, a previous pop-up operation that fused Southern smoked meats and Asian-inspired small plates.
Dim Sum and Then Some, which appeared on a monthly basis, was consistently packed, and while, with its mashed up genres, it had the potential to be gimmicky, it worked as cohesive experiment in cross-cultural foodie pollination. But Four Calendar finds Marvel and Hayashi breaking new gastronomic ground. Small plates remain, but their pedigree largely abandons Asia and the South for Napa and the Mediterranean. That's not to say this isn't rustic, hearty food; there's a misperception (especially prevalent amongst large-portion loving New Orleanians, in my opinion) that California cuisine equals dainty, valuing presentation over flavor profile.
Marvel is from California and Hayashi has spent stints cooking in the state, but they settled in New Orleans for a reason. If Four Calendar, with its leek soups and salt cod spread, has California-Mediterranean roots, it also has a Southern appreciation for food that pops off the plate (as well as legitimate Southern sourcing from local providers and farms). For all that Southerness, It's not over the top as Southern food can sometimes be; the afore-mentioned leek soup is cool and silky, studded with fried croutons that admirably attained their crispiness despite an extended dunk in my soup. But each understated component added into a potent whole.
The same can be said for a beet-and-cheese square set off by a side salad; the latter's slight bitterness never threatened, but rather complimented the creamy texture of the cheese and the sweet and salty bite of the beets. That there was an artful presentation did not mean there was a lack of taste by any stretch.
My dining partners' reserved most of their highest praise for Hayashi's pate, which eschews an easy, smooth spread for chunky, meaty bits studded with herbs; out of all the dishes, it's by far the least subtle and the most liable to kick your palette in the ass. In a good way! We couldn't get enough crusty bread to scoop up the goodness. Same for the salt cod, served in an attractive clayware pot; it referenced the previously mentioned understated notes, with the subtlety this time stemming from fishiness and salt. Neither of those qualities was too much on their own, and together, they made for a lovely hit on the tongue with plenty of umami depth.
My one beef? Four Calendar is a pop-up, and thus isn't around on a regular basis. But that's OK. More popularity – and it was pretty damn popular last night – will grow from its sporadic appearances. I'm just hoping these fresh flavors, sourced from the South, find a permanent home soon. That said, while enjoying the food in Faubourg Wines, a bottle of Rose at hand and a perfect sunset striping St Claude in fire and indigo bands, I can't diss the new digs either.
Image courtesy of Four Calendar Café.