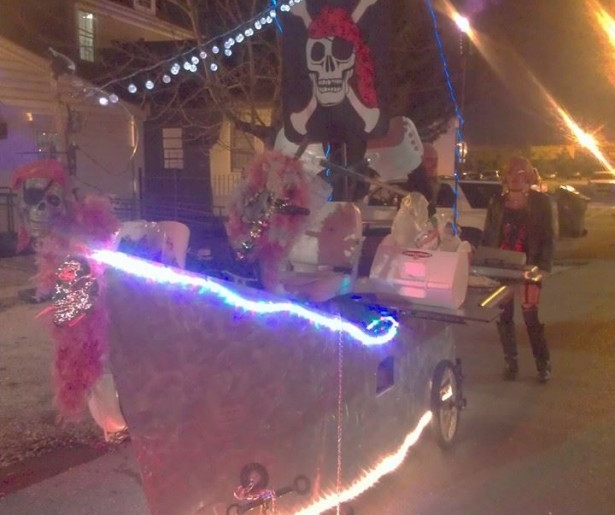 SHARE
Couple of cool new things kicking off in New Orleans on Saturday, both in that little corner of town we like to call downriver.
At 6pm, there's a DIY Science Museum at the *Red House*(2820 St Claude) in the Bywater. What, you may ask, the heck is a DIY Science Museum? The official description says This event will be a "Science Museum" in the broadest possible sense. It's sort of like an art show, but more inclusive and interactive. My intuition tells me that, this being the case, the event is going to be semi-science museum, and semi-inspired by the burner art installation/crazy invention ethos that seems to inform so many downriver events. Either way, it sounds fun. The Science Museum kicks off at 6pm, and Pirate Pizza – remember how I mentioned burner art installations? That's a Pirate Pizza float from this year's Muses parade, above – will be on hand to cater.
New Orleans is a city that loves to tell stories that begin with some variation of the phrase, "This one time I was wasted and…". Well, Close Me Out!, another notch in the city's belt of live storytelling events, is dedicated to tales of this nature. The event goes off at 7pm at the Hi Ho Lounge the show draws its inspiration from Chicago's famous Blackout Diaries. If you're not able to miss this round of drunk tale spinning, no worries; Close Me Out is going to become a regular event on first Saturdays of the month.