POSTED Wed. Jun 11, 2014
Where to watch the World Cup in New Orleans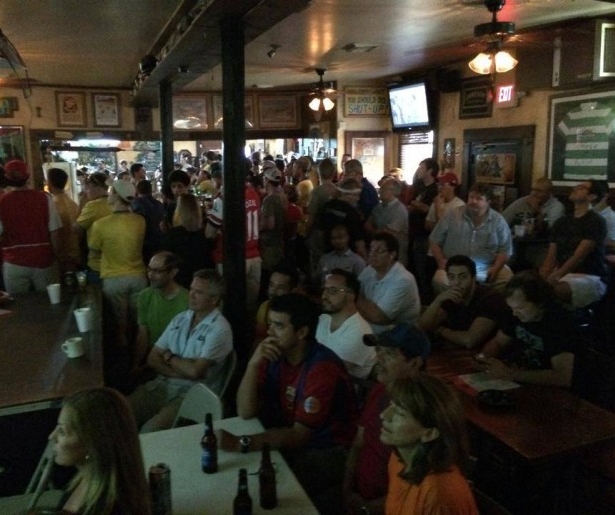 SHARE
New Orleans is a Saints town, through and through, but that doesn't mean the city lacks fans of the "other" kind of football. Soccer takes center stage in the sports world over the next month as the 2014 FIFA World Cup kicks off on Thursday, June 12th in Brazil. The World Cup is soccer's premiere event, a once-every-four-year tournament that unites thirty-two frenzied international fan bases from all over the world.
There's no better way to watch World Cup matches than in a crowded bar or pub, surrounded by passionate, dedicated, occasionally raucous fans that cheer and groan along with every acrobatic goal or save. The opening match between Brazil and Croatia is Thursday (June 12th) afternoon at 3pm, and the U.S. play their first match against Ghana on Monday, June 16th at 5pm.
Here's a brief guide to the top bars where you can enjoy all the World Cup action in various New Orleans neighborhoods:
1 Finn McCool's (3701 Banks St)
Let's start with the most obvious soccer spot in town. The owners promote Finn McCool's as the top soccer-watching destination in New Orleans (and Louisiana), and it's hard not to agree with them. This mid-city Irish pub is a football lovers paradise, with wall to wall televisions, a huge projection screen, shaded outdoor seating, and soccer memorabilia plastered all over the walls. Embedded into a friendly mid-city neighborhood, Finn McCool's is home to some of the most knowledgeable and dedicated soccer fans in town. The bar's been known to get crowded even for matches that take place at 7am because they're broadcast from half way around the world.
One downside – though there's plenty of room inside and outside of Finn's, the bar's reputation as a go-to soccer spot means it gets crowded fast, especially for any match involving the U.S. team. Arrive early for a chance at a seat, and be prepared for a loud and bustling environment. Drinks are reasonably priced and BooKoo BBQ & Burgers provides ample food options (the burgers are especially decadent).
Other Mid-City options: Mid-City Yacht Club (440 S St. Patrick St.), Bayou Beer Garden (326 N Jefferson Davis Pkwy), and Mick's Irish Pub (4801 Bienville).
2 Ryan's Irish Pub (241 Decatur)
A lot of bars in the French Quarter will be broadcasting World Cup matches, so it's hard to pick just one, but Ryan'sb has a reputation as a solid spot for all kinds of sporting events, especially those broadcast in the early afternoon. Ryan's is a great place to escape French Quarter debauchery or the relentless summertime heat. They cater to a good mix of tourists and locals, have affordable beers on tap, and sell $5 car bombs all the time.
Other French Quarter options: Upper Quarter (1000 Bienville St.), Molly's at the Market (1107 Decatur St.), and Fahy's Irish Pub (540 Burgundy St.).
3 Vic's Kangaroo Cafe (636 Tchoupitoulas St)
Not all the best soccer-friendly bars in town are Irish pubs. This unassuming Australian themed dive-bar provides a funky alternative to other soccer spots around town. The walls are adorned with odd kangaroo photographs as well as football and rugby jerseys. It's also a prime destination for local service-industry workers, especially late at night. Vic's serves excellent food, including pizza and a delectable shepherd's pie. They also have a weekday "Hoppy Hour" from 4-7pm.
Other Central Business District options: The Rusty Nail (1100 Constance St.) and Barcadia (601 Tchoupitoulas St.).
4 Cooter Brown's (509 S Carrolton Ave)
An uptown sports bar staple, Cooter Brown's is the perfect place to watch a World Cup match on a big projection screen while also getting a taste of New Orleans by eating a few oysters. The place has almost twenty televisions and copious amounts of beer, and the bar's main room is filled with long rectangular cafeteria tables that foster lots of mingling with fellow sports fans. There's also pool tables and outdoor seating.
Other Uptown options: The Bulldog (3236 Magazine St.), Fat Harry's (4330 St. Charles St.), and The Irish House (1432 St. Charles St.)
5 J&J's Sports Lounge (800 France St)
Cheap drinks, tons of TVs, and a lively, yet still divey atmosphere, J&J's is a neighborhood sports lounge for casual fans and diehards alike. Known as a great spot for watching Saints games in the fall, the bar will no doubt be showing World Cup games in the afternoon and evenings. It's a dog friendly place with outdoor seating and a "Cheers"-esque atmosphere.
Other Bywater options: BJ's (4301 Burgundy St.) and Markey's (640 Louisa St.)