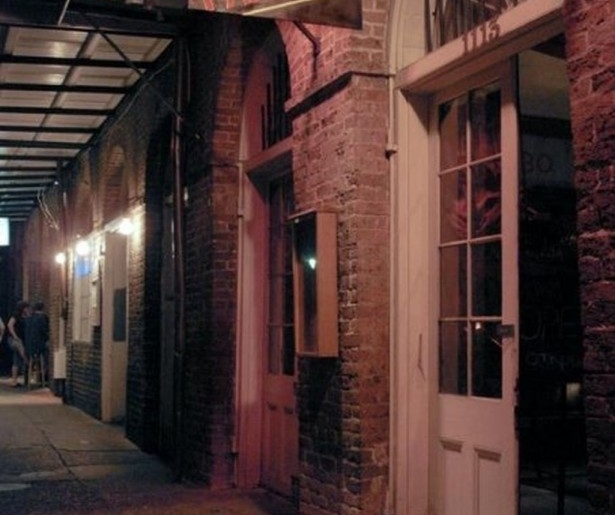 SHARE
Festival season has slunk around. You can feel the momentum building as the weather teases us, in and out of spring. For those of us that live here, the sound of cicadas at night after months of chilly silence activates a longing for summer. Or maybe just that romantic little window before real summer sets in and we're all sweating enough to nearly negate showering. As a service industry person, this time of year has some kind of Pavlovian effect on me. Equally excited for the sultriness and adventure of the season, and yet knowing JAZZ FEST stands between me and any kind of recognizable day off. My body is literally torn between puppy-like drooly abandon, and endurance training.
That said, Festival Season is a damn good time. The city is a palpable fireworks show of food and music and visitors and house parties and crawfish boils and sunburns and brass bands and even if you're on your third double in a row, there's plenty of joy to go around. I don't think I've ever experienced a city that knows how to bust its ass hosting a gigantic party for two straight weeks, and have as good of a time (if not better?) as its guests.
This is a fun little food list to compile, because I hope it will speak to resident and visitor alike, and there aren't that many times of the year when this is so noticeably the case. Everybody kinda wins really. Tourists get a little more during Jazz Fest (and the Jazz Fest afterglow): namely all of us out reveling with them (an activity we both excel at, and are willing to provide guidance in). And New Orleanians get a city full of folks here for the sole purpose of celebrating and enjoying the two things we're best at: music and food!
So, after you've had your fill of the million and one delicious vendor stands at The Fairgrounds, when you've changed clothes, ditched the festival gear, applied aloe vera, and are ready for a good sit-down meal to tie a ribbon around your New Orleans expeirence, here's some spots I wouldn't miss:
Dante's Kitchen
I will write about this restaurant many, many times. It's my Goldilocks for so many reasons. They are diligent about sourcing quality ingredients, change the food and deliciously eclectic bar menu weekly, and just generally, genuinely enjoy what they do, and where they do it. Chef/Owner Eman Loubier is a veteran of the New Orleans culinary canon, and this menu speaks volumes. There are two sections of small plates, one leaning in an appetizer direction, the other in an adventurous small plates/charcuterie direction. I would suggest sharing entrees at the table to provide a wide tasting of the menu. Seafood is handled lovingly, the chicken is famous, and there's always a hearty meat option (the Trois Mignons is simply, straightforwardly f'ing delicious). Not to be overlooked, the way this kitchen treats vegetables is nothing short of triumphant. The creativity, care, and thoughtfulness that goes into this food is something everyone should experience. Also, make reservations.
Perestroika (@ Pravda)
You're gonna be in the Quarter. This is known. You have options beyond what your phone app might first alert you to. Pravda is one of those. A little gem on Decatur St, this bar was just recently passed off into the hands of some really talented folks, and they're doing some pretty magical things. I know craft cocktails are all the rage right now, but I'm a pretty steadfast wino, and my guy is a pretty steadfast beer drinker, so we don't generally venture past one fancy mixed drink as we look at the food menu. This Pravda crew, hailing from Cure on Freret St, have been known, more than once, to take us down a delicious, spirited rabbit hole we wouldn't otherwise have surrendered to. And now, Adam Biderman of Company Burger is at the helm in the kitchen and has created a delightful pillow of Slavic treats to catch your fall. The portion of cracklins is ridiculously huge and everything a fried pork skin should be, seasoned with some wintery spices. There was foie gras when we went, handled expertly and not overly gilded. The matzo ball soup is apparently his grandmother's recipe! This menu is not a forever thing, as they will eventually be making Pravda over, into a rum Tiki bar, with food to match, so get it while you can!
Yuki Izakaya
The music goes on all night down on Frenchmen St, but the food options are limited. This little Japanese bar has delicious small plates and ramen, if you're down to really change it up from the festival fare. The takoyaki (octopus dumplings) are delicious, and can even be ordered fried for extra umph. I love the karaage fried chicken, the chashu (pork belly) ramen, and the hamachi kama (grilled yellowtail neck). Izakaya is traditionally bar food, and the dishes here do an excellent job of repairing what the day might have done to your constitution. And you can listen to an awesome Japanese Jazz trio, Albanian accordionist, or late night DJ while you get yourself right again. P.S. I have yet to suffer a hungover from sake or shochu.
There's so very many options for these weekends of revelry, but I feel like these are just slightly off the beaten path, and are sure to make an impression. And if you live here, it's a chance to make friends with a spot you might not otherwise have found! Happy Festival Season all!
Photos courtesy of Pravda and Yuki Izakaya