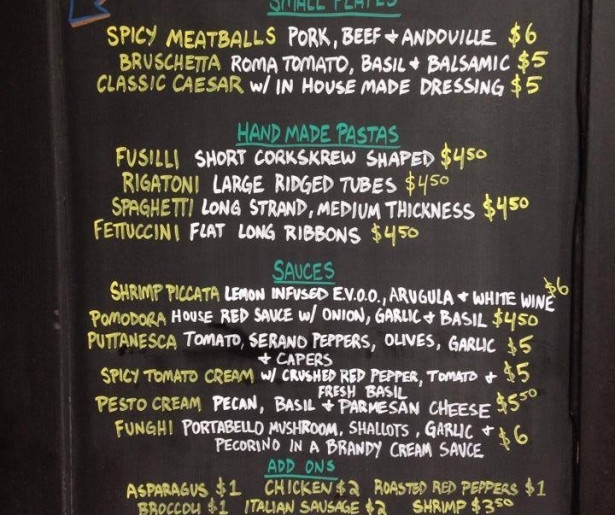 SHARE
We've written before on our excitement of homestyle Italian joint Arabella Casa di Pasta coming to St Claude Ave (mixed with a bit of sadness at the departure of the old tenants at 2258 St Claude, drunk food standby Borracho's). Arabella is dedicated to real pasta, cooked with care and love; you can scope one of their sample menus above.
Now we may lay the whiskey-and-fried-chicken-liver sodden soul of Borracho to rest, because Arabella officially arrived this weekend, throwing its doors open next to Kajun's, the greatest karaoke bar ever, where covers of classic rock, hip hop and country occur with epic regularity. Seriously, no night in New Orleans that ends as Kajun's ends badly. You'll be relatively sober and responsible, and then someone says, "Hey, should we pop into Kajun's for a couple?" and then it's 4am, you're 18 whiskey and cokes in and you're arm in arm with a Chalmette housewife, a St Roch barfly with face tats and a Tulane post-doc, and you're all belting 'Friends in Low Places' at the top of your lungs.
This has happened to me.
Anyways, moral of the story – and sorry for the brief Kajun's sidebar – is now you can compliment all of that singing and carrying on with fresh pasta, homemade puttanesca, pork neck bone Bolognese and of course, some-a spicy meatballs. Benvenuto to the neighborhood, Arabella: we look forward to complimenting that next round of Journey covers with some of your fusilli.
Image courtesy of Arabella Casa di Pasta.