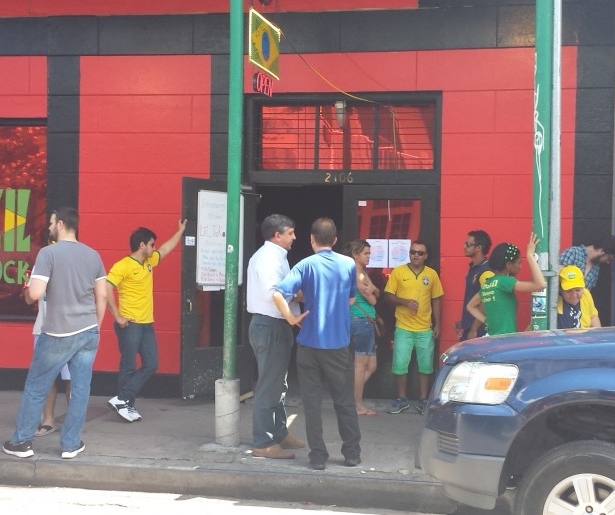 SHARE
I was biking home yesterday and passed a place we clearly should have included on our list of places to watch the World Cup: namely, the Brazil Taco Truck at 2106 Chartres (basically, Chartres and Frenchmen).
I haven't been to this bar yet, but it's clearly a magnet for the New Orleanian Brazilian population, who flocked here to watch their home country and Mexico play to a thrilling 0-0 draw. That's not sarcasm, by the way; Mexican goalkeeper Guillermo Ochoa was on fire. Dude was like a wall. He should be subbing in for Gandalf in the next Hobbit movie, given how intent he was on not allowing anything to pass.
Anyways, I'll make a point of popping into Brazil Taco Truck, even if tacos aren't really a thing in Brazil (geography lesson: everything south of Texas is not Mexico). They've got caipirinhas and pisco sours and a pan Latin cuisine menu that sadly does not seem to include actual Brazilian cuisine (culinary lesson: Brazilian food can be magnificent, and I'm not talking about cows on skewers at Fogo de Chao, or as I like to call it, Golden Corral for upper middle class people). Still, get a few caipirinhas in me and I tend to not get picky about my food's nationality.