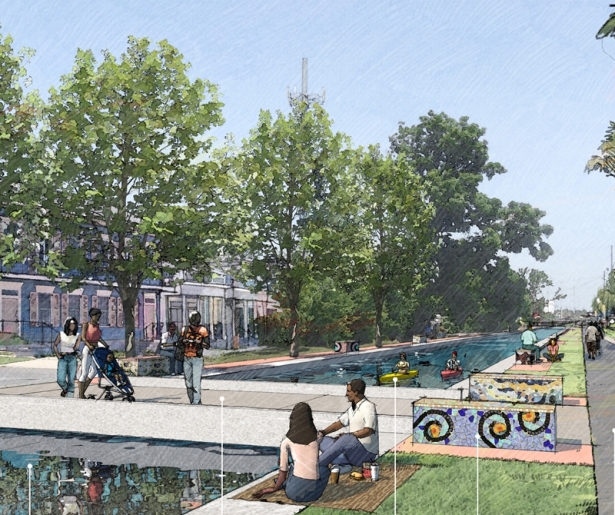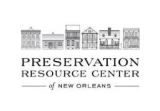 SHARE
By Danielle Del Sol
Preservationists mourned the loss in 2011 of over 30 blocks of the Lower Mid-City neighborhood that were razed for the construction of two new hospital complexes, decrying it as one of the most devastating blows to New Orleans' historic built environment in recent memory. But the boom in building revitalization and historically-sensitive new construction that has been sparked in neighborhoods surrounding the new medical site offers a silver lining with seemingly limitless bounds.
FOR THOSE WHO ONCE KNEW the low-rise, residential blocks of Lower Mid-City, the view today while driving down Canal Street is startling.
As one crosses Claiborne Avenue on Canal driving north, acres of land that were once filled with mid- to late-19th-century wooden shotguns and neighborhood businesses now hold towering concrete, glass and metal modern structures that are rapidly spreading across city blocks. A vast tract of land — over 30 square blocks within Canal Street, South Rocheblave Street, Tulane Avenue and South Claiborne Avenue — has looked like the face of the moon — empty, lifeless — for the past two years after most of the homes in the neighborhood were demolished for the construction of a new complex of hospitals. Today that complex, which includes a Veterans Affairs hospital and a Louisiana State University hospital and health care facility dubbed the 'University Medical Center,' has taken real shape.
The proposal to build the two new hospitals on that site was mired in conflict: Its proponents used promises of job creation and economic growth to fight residents and preservationists who wanted to save the historic neighborhood and urged the hospitals to locate elsewhere. The Louisiana state legislature even charged the Foundation for Historical Louisiana with conducting a feasibility study on reusing the abandoned Charity Hospital site nearby, and results showed that LSU could adapt the roughly one million-square-foot building for less money than building a new hospital. Despite this, principals for VA and LSU stayed firm in their proposed location, and ultimately most of the neighborhood was demolished in 2011. Some of the buildings on site were spared and moved to new locations, though few are fully back in use.
Time has marched on, and as the new hospital buildings are finally physically built, one reality is clear: The more than 4,000 new jobs that officials have claimed will be created when the two new, multi-billion dollar centers open is driving a swift and thorough response by developers. The need for housing and amenities to support this imminent influx of new people to the area is transforming neighborhoods close to the site. Though an entire historic neighborhood was lost, creative individuals throughout Mid-City and Tremé are now restoring existing buildings or infilling empty lots in a sensitive way to create new residences, open new business or otherwise capitalize on the birth of a medical behemoth in Mid-City. Here are some of the most exciting projects that are taking shape.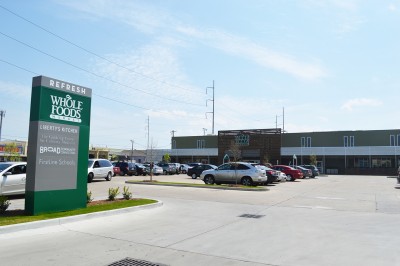 NEW ORLEANS SPECIALTIES: FOOD AND COMMUNITY
It's not historic, and it's certainly not architecturally significant. But the recent adaptive reuse of a circa 1960s Schwegmann's grocery store on North Broad and Bienville streets into the ReFresh Project, a multi-use complex that is anchored by a Whole Foods Market, is one of the most buzz-worthy new projects to have debuted so far within a stone's throw of the new medical complex site.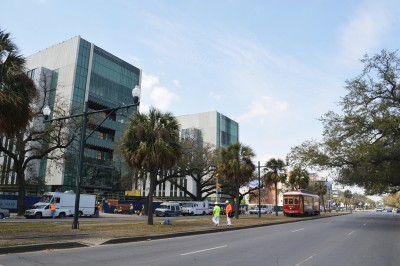 L+M Development Partners and Broad Community Connections, with the help of over a dozen investors and input from neighborhood groups and leaders, have transformed an unattractive and long-vacant concrete box into a complex that holds a grocery store, offices and a café. A seeming oasis in the middle of what many deemed a "food desert," ReFresh's tenants mostly share goals of improving the community through culinary means. The nonprofit Liberty's Kitchen, for example, a full service café and commercial kitchen that will open soon next to Whole Foods, works with at-risk youth to teach them life skills in a kitchen setting. Other tenants include Tulane's Goldring Center for Culinary Medicine, which will operate a teaching kitchen on site that will educate and serve both medical students and neighborhood residents, FirstLine Charter Schools, which has relocated its headquarters to ReFresh, and the nonprofits Boys Town and Broad Community Connections.
Next City magazine recently deemed ReFresh a "xanadu" for the neighborhood. And it's not all hype — anyone who walks inside will see the Whole Foods packed with a diverse crowd of shoppers at virtually any time of day. FirstLine Schools, which is the only other organization to so far have an open office at ReFresh (the complex is still under construction), has more than 20 people happily working in the building. "The location was perfect for us," said Jay Altman, co-founder and CEO of the charter network. "It provides easy and quick access to all of our schools, and is a nice co-location with Liberty's Kitchen and Whole Foods given our Edible Schoolyard work," he said. (FirstLine is the operator of Samuel Green Charter, an Uptown school with an Edible Schoolyard that students maintain.)
It is precisely such collaboration between groups with related missions that the developers hoped to foster within the building. "The ReFresh site has incredible potential to serve the community with the combined efforts of Liberty's Kitchen, Tulane Medical Center, Broad Community Connections, FirstLine Schools, Boys Town, and Whole Foods Market," said Kristina Bradford, Whole Foods' community relations coordinator. The teens involved with Liberty's Kitchen, for example, cook the gumbo, red beans and jambalaya bases for the Broad St. Whole Foods' prepared foods department, make dressings for their salad bar, and will soon expand offerings to the bakery department. "With the goal to improve access to fresh, high-quality food and health-related programs in the community, it's possible that the ReFresh project could be a model for future locations" of Whole Foods stores, she said.
"Let's say someone who lives in [Faubourg] Lafitte is dealing with diabetes or obesity issues that are affecting their day-to-day life," said L+M Development Associate Jake Pine. "They can go to the Ruth Fertel / Tulane Community Health Center at Broad and Orleans streets [nearby], and doctors can write a prescription. But they can also tell them to go to ReFresh where they can learn how to write a recipe, read labels and shop within a budget using fresh food.
"I can't wait to take these classes myself," he said. Not only will smart cooking classes be offered at Tulane's teaching kitchen, but a coalition of the building's tenants and over 20 outside groups like GrowDat Youth Farm, Sprout NOLA and others are planning fresh food and holistic health programming for the community under the moniker 'ReFresh Coalition' that will be held on site and open to the public.
But man can't live on bread alone — he must get paid. Creating local job opportunities was also a focus of ReFresh, and Whole Foods advertised their numerous new positions at several nearby job fairs. Bradford says 73 percent of employees at the new store live in Orleans Parish — Pine, whose company L+M Development was the lead developer of ReFresh and is also helping develop the Faubourg Lafitte development blocks away, notes that several residents of Lafitte were also hired.
As to the perception that Whole Foods only caters to shoppers of greater financial means? "We are competitively priced," Bradford says. In reality, a comparison of the store's in-house 365 Brand products shows virtually equal pricing to in-house products at other local grocery stores. "Before the opening, Broad Community Connections hosted a big town hall meeting at Sojourner Truth Neighborhood Center in Tremé to tell people about the different pieces of the overall ReFresh Project," said BCC Director Jeff Schwartz. "Everyone acknowledges the perception out there [about Whole Foods' prices], and our message was, 'this is about accessibility, so give it a shot.' I think Whole Foods is excited to show that they're a retailer dedicated to health," he said, adding that the company used the Broad Street store's opening as an opportunity to announce a new nation-wide initiative they're launching called the Whole Cities Foundation, which will be dedicated to improving community wellness. Whole Foods said the Foundation will launch with $1 million in seed funding, $100,000 of which will go to the ReFresh Coalition.
According to Pine, the ReFresh complex isn't unique only for its combination of culinary and community-loving tenants; the financing package that was assembled to open the site had 13 separate sources of funding, making it a special, and particularly complicated, project to launch. New Markets Tax Credit financing provided a large chunk of the $18.1 million project cost; Goldman Sachs provided $6 million in loans and equity, and other organizations like Chase Bank, the Foundation for Louisiana, Newman's Own Foundation and La Raza provided other sources of funding. The City of New Orleans' Fresh Food Retailer Initiative gave a $1 million loan to Broad Community Connections for the project, with as much as $500,000 forgivable, and a grant from the New Orleans Redevelopment Authority's Commercial Corridor Revitalization program added another $900,000. "It was incredibly complex," Pine said, adding that organizing the funding was the most time-consuming part of the project. While acquiring the site and lining up funding took about three years, construction of the Whole Foods took only nine months, and the entire site is nearly complete today, less than a year after construction began.
Whole Foods opened February 4, and the rest of ReFresh's offices will open in coming months. So what's next for ReFresh's two developers, L+M and Broad Community Connections? They'll move forward with other opportunities — but they won't leave the neighborhood. L+M will resume its focus on Faubourg Lafitte, with new phases bringing affordable senior housing and new homes for sale and rent to the area directly south of Broad Street. And Broad Community Connections, as a Louisiana Main Street program, will continue to develop and better Broad Street however it can, Schwartz said. "We are looking at three to four key properties right now," including a vacant lot caddy-corner to ReFresh, he said. "We're interested in seeing any property on Broad come back, and whether we play as large a role as we did for ReFresh or not, we'll be looking at doing something similar where we identify a need in the community and see what partners we can assemble." In the meantime, beautification efforts like BCC's '100 Trees for Broad and Bayou Road,' a tree-planting campaign that launched in late March, will keep momentum for a better Broad Street moving forward.
HISTORIC HOUSING — AND THAT WHICH LOOKS VERY SIMILAR
Once groceries are purchased and work is done, thousands of the medical site's new workers will head home — and several local developers are snapping up real estate in the area with the hopes that many of these newcomers will want to live close to work. Blocks of once-blighted homes are suddenly bright again in anticipation of an influx of new renters and buyers to the area.
One dramatic example is Bienville Street, where GCE Green Development, a small firm based in the Broadmoor neighborhood, has purchased four blighted buildings on a single block, transforming the whole feel of the oak-covered avenue. The firm is creating 11 mid- to high-end rentals units in four buildings one block south of ReFresh, between North Rocheblave and North Tonti streets. The buildings were empty and in abysmal shape — three are double shotguns and the fourth is a rare, historic five-plex — and neighbors are now pleased, said partner Lex Kelso. "We're cleaning up blight, making the street more attractive and attracting new tenants to the area," he said.
Dolores Yeargin, who lives next to one of GCE Green's renovations and across from three others, is pleased with the group's transformation of her block. "I love it," she said. "I used to pass through here after Katrina and there was nothing. They're getting rid of abandoned houses and it makes the neighborhood look better."
In order to get zoning permission to restore the historic five-plex — after years of vacancy the zoning had lapsed to the area's norm of two units allowed per building — Kelso and his partners had to walk Bienville Street and have residents sign onto their plan to restore the building into rental housing. "We talked to everyone within two blocks, and they were all willing to sign a paper saying they thought what we were doing was a good idea," Kelso said.
Also supportive of this work is 93-year-old Ernest Smith, who lives across from the group's five-plex building. Smith was born in his house on Bienville and has always lived there. "They're doing good work," he said. Smith has even stopped two thieves who, early in GCE Green's construction phase at the houses, tried to strip the homes' facades of their original decorative brackets.
The firm uses state and historic rehab tax credits to partially fund the projects. "A lot of people are looking at the area between Canal Street and the Lafitte Greenway" for opportunities to redevelop properties, Kelso said. "It's only three or four blocks deep, but that whole stretch to Whole Foods — everyone expects it to continue improving."
Local developer Neal Morris is another developer working in the area, though his rental offerings are different — funded in part by Low Income Housing Tax Credits, his affordable units are only available to tenants who make 60 percent of the area's median income or less.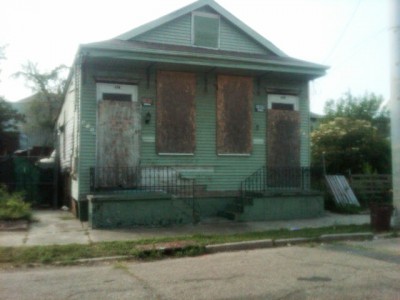 Before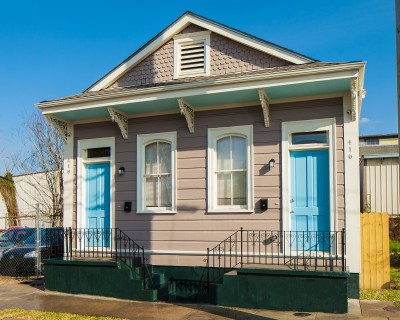 After
Morris' company, Redmellon, has a very specific strategy for resurrecting blighted properties — he purchases homes at sheriff's sales, on the open market, by approaching homeowners, or whatever means necessary. Once acquired, he mothballs the homes until he can assemble a large enough portfolio of blighted properties, between 20 and 40, to renovate them all at once. It's a strategy that helps him maximize subsidies, including LITHC and historic restoration tax credits.
Redmellon is currently 80 percent complete on a 46-house package in the medical site footprint. "It's nice to be able to preserve historic rental stock that is affordable in the area as prices are rising," he said. The investment pouring into the area because of the medical site drove Morris' latest batch of investments, but he has come to like the area for other reasons as well. "The neighborhood is attractive because it is truly diverse, both economically and racially. There are pockets of blighted homes literally next door to, say, a city attorney's house. Unlike other parts of the city, when renovating here, the impact is really leveraged" [because of all the investment happening in the area].
Local nonprofit housing developer Providence Community Housing is also developing homes and rental units in the area, with prices ranging the gamut. Providence and development partner Enterprise were selected by the Housing Authority of New Orleans to redevelop the former Lafitte public housing development in 2006; to date, the partners have overseen the construction of 276 new units of affordable housing on the former public housing site, and over 180 homes, 80 of which have been offered for sale, in the surrounding neighborhoods. New phases of construction will introduce market-rate units to the Lafitte site as well as affordable senior living units. Their new construction designs are aesthetically in line with traditional New Orleans architecture — though one would never mistake the buildings for historic, their varied shapes, colors and features, such as window shutters and balconies, make them a pleasing fit for the neighborhood.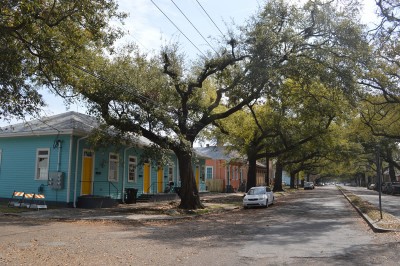 Providence is also currently rehabilitating six houses that were formerly on the medical center site but were moved to vacant lots throughout the city; when complete,they will be offered for sale to first-time homebuyers, according to Andreanecia Morris, Providence's vice-president for homeownership and community development. These are in addition to another 27 relocated houses were restored as subsidized rental housing. By balancing subsidized rentals with homes for sale, Providence is ensuring that a diverse mix of residents can live in the neighborhoods, Morris said.
In addition to building new housing and renovating existing buildings, Providence has led an organized coalition of neighborhood groups as the area as a whole transforms. Dubbed 'NEWCITY,' the group has representatives from the Mid-City, Tremé, Tulane/Gravier, Bayou St. John and Sixth and Seventh Ward neighborhoods. The group meets regularly to bring together stakeholders and residents to foster good relationships and ideas, and to help all members progress in their work in a way that's most beneficial to the area and in line with residents' needs and desires.
"We have been catalytic," Morris said. "That has been our mission, and I think we have been successful. The main project itself [on the former Lafitte public housing site] demonstrates that you can do something new that fits in with New Orleans' architecture and is affordable, impressive and groundbreaking. The first of our scattered site housing was for Faubourg Lafitte homeowners and you can see the impact in how the owners have personalized their homes."
Funds for Providence's work come partially from Low Income Housing Tax Credits and Community Development Block Grants.
HANO's charge to the Faubourg Lafitte redevelopment team, which includes L+M Development, was to develop a total of 1,500 units of affordable and market-rate housing to rent and sell. While Providence will be working on the task for several more years, the impact of their work is already felt, Morris said. "It has been a force for positive change in the larger community."
WIDE OPEN SPACE
Though its late-March groundbreaking is wholly unrelated to the construction of the new hospitals, the transformation of the nearby Lafitte corridor into a three-mile walking and bike path called the Lafitte Greenway will still be a game-changer for Tremé and Mid-City.
The project is by some counts almost a decade in the making; by others, much longer. "For me it started in May 2005," said Mid-City resident Bart Everson, co-founder of Friends of Lafitte Corridor. "I was walking with a friend at the end of Bayou St. John and we saw workers removing the rails and ties" of the 54-acre former shipping canal and later, railroad corridor. "My friend said, 'that would make a great Rails to Trails project.'"
Being an avid biker, the idea appealed to Everson. "I looked at Google Maps and got together with a couple of friends in May to hike from one end to the other, Armstrong Park to Lakeview. At the end of the three miles, besides having a sunburn, I was absolutely convinced this was an idea that had merit."
According to LSU Associate Dean and Landscape Architecture Professor Lake Douglas, another impetus to develop the former railway into a green space was "the fact that the lame duck City Council was selling off city assets/property without resident input."
"The city sold off a big chunk of the Lafitte corridor property close to Claiborne Avenue, including the streets, to a developer for the Louisiana Institute for Film Technology," he said. Nothing ever came of the sale, however; in fact, "people involved in that deal eventually ended up going to jail," Douglas said. After it fell through, the Trust for Public Land acquired the site and eventually sold it back to the City, and plans were made to redevelop it as public green space.
In the months following Hurricane Katrina, those who came back to New Orleans were focused on survival, not public parks, Everson said. But the period also saw "a big focus on planning, and regular citizens were asked to participate in planning projects. Those who were back brought a lot of passion to these meetings. I met a number of people who also knew about this strip of land and were interested in it." A year to the day of his friends' first hike along the strip, Everson organized a Second Annual Hike of the Lafitte Corridor. "Seventeen people showed up, and by end of the hike the idea had formed for the Friends of Lafitte Corridor," Everson said.
The 501©(3) nonprofit has helped guide dialogue amongst area residents as the City moved forward with plans to develop the site. Plans for the Greenway began but never materialized during Ray Nagin's mayoral administration, and Mayor Mitch Landrieu's administration continued efforts in 2010. The firm that had won the bid to design the Greenway under Nagin won again under Landrieu; in fact, Design Workshop's dedication to the plan has been impressive, Douglas said. "Their planning process was extensive and very much community-based," he said. "They had a complicated scope of services — they had to create a master plan for the site but also an economic development survey and a management plan. They met with 80 or 90 people in the process.
"When their plans went out to [construction] bid, the cost came in about $1 million under budget. I think that speaks to how carefully they put together the plans and how extensive they were at the analysis." The $7 million dollar budget allows for the basics to make the park enjoyable and safe, including a 12-foot-wide asphalt bike and pedestrian trail, extensive tree plantings, meadow plantings, turf, ball fields, lighting, enhanced street crossings, drainage, bicycle racks and improved transit stops, according to Mary Martinich of Design Workshop. But much more could be done with extra funding, and indeed, according to Martinich, the amenities shown in the renderings the firm created for the Greenway can't be had yet due to the current budget.
The Lafitte Greenway's revitalization will affect the surrounding neighborhoods in many significant ways and touch a huge swath of the city's residents — Design Workshop estimates that the population surrounding the corridor is 13,583. "It goes down the middle of the city and will connect neighborhoods that people never imagined as being possible to move from one to the next," Douglas said. "I'm confident that it will generate a lot of economic activity. It will provide green space to a lot of people who don't have any close by. And the capacity to bicycle or walk from Canal Boulevard to the Quarter is remarkable."
Tulane's Medical School has been involved with Friends of Lafitte Corridor from early in the Greenspace's planning process with the hopes of assessing 'before' and 'after' changes to the health, especially obesity and diabetes rates, of residents along the corridor. Other areas that seem poised for growth along Lafitte as construction begins are retail outlets, housing prices and crime reduction.
"There's also a direct environmental benefit," Everson noted. "The Greenway encourages people to transport without using fossil fuel, it creates more green space with native plants," and it can help mitigate area flooding with the implementation of rain gardens.
"When you approach public open space from a public angle, you realize that you end up getting a lot of benefits from money put into public open space," Douglas said.
According to Martinich, the City has stated that the Lafitte Greenway "is a city facility to be managed by Parks and Parkways." It is slated to open in 2015.
RESURRECTING SPACE FOR THE ARTS
With fresh new offerings in housing, food accessibility and green space for Mid-City and Tremé springing up, the April 30 grand opening of the revitalized Carver Theater will fill an important void — accessibility to the arts. The theater, located on Orleans Avenue in Tremé, has not functioned as an entertainment venue since 1980.
The circa 1950 theater, which was open as a medical office from 1987 until it flooded after Hurricane Katrina in 2005, has been under renovation for more than four years at a cost of $8 million. It will now reopen as a live performance hall able to host an array of events — banquets, workshops, weddings, trade shows — but will find its niche in live music performances, especially jazz and theater, according to General Manager Vincent Sylvain.
A theatrical design team and sound technicians were brought in to help with the layout of the interior so that, in addition to having superior sound quality, the Carver would also be known for its ability to record high-quality video and sound and offer live streaming of shows. The theater's owner, Dr. Eugene Oppman, also installed a Meyer Sound system — the same type used at the San Francisco Jazz Center — so that "artists and the audience feel that this is an experience they can get nowhere else," Sylvain said.
"With the proliferation of theaters in the city, are there now too many?" he asked. "You can never have too many, but Carver has a competitive edge. When you combine our features with the musical resources in the city, where there are so many talented musicians, we feel it gives us an upper hand."
The complicated renovation, designed by Perez Architects and completed by Ellis Construction, included the installation of 200 pilings to stabilize the structure. But from sight alone, the building looks much as it did in the 1950s, Sylvain said, complete with a reconstructed exterior ticket booth to match the original, and a shining restoration of the original marquee. State and federal historic tax credits provided some of the project's funding, as did New Markets Tax Credits and Louisiana Live Performance Tax Credits, as well as funds from the state Office of Community Development.
New features include an addition that holds restrooms and a new green room, and the conversion of the theater's second floor into a V.I.P. lounge, complete with a small balcony located where the theater's old projection room was originally.
Sylvain, an urban planner who led the City of New Orleans' housing office for years, is excited to be part of the project. "This adaptive reuse ties in with the neighborhood, and it will be a world-class facility," he said.