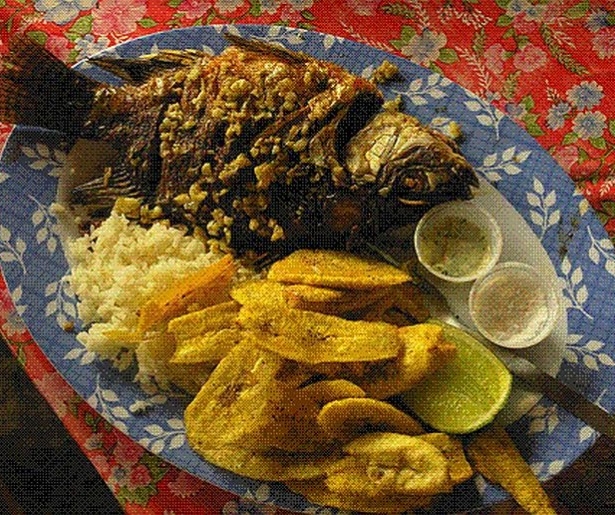 SHARE
New Orleans has long boasted a large, vibrant and visible Honduran population, and said Hondurans have been going ape-poo for the World Cup. Sadly, the Central American nation won't be advancing into the next round of play, but we still think you should show the city's largest Latino population some love by cheering on Los Catrachos (the team's nickname) today during their final game against Switzerland, at 3pm, CST. Where to watch? Casa Honduras, in New Orleans East (5704 Crowder Blvd), where you can dine on fine Honduran cuisine like the fried fish and plantains pictured above, courtesy of Wikipedia.
By the way: Catracho is not just the nickname for the team. It's a slang term for all Hondurans. It comes from a mispronunciation of the name 'Xatruch', as in Honduran General Florencio Xatruch, who whipped one William Walker in 1857. Walker was a Tennessee boy who raised a private army and conquered Nicaragua in 1855, where he repealed that nation's abolition laws and tried to reinstate slavery. This didn't go over well with the neighbors, and Walker was ousted following his defeat by Xatruch and an allied army of Hondurans and Salvadorans. Grateful Nicaraguans greeted Xatruch and his army as liberators by yelling out Aquí vienen los xatruches!, which means "Here come Xatruch's boys"; eventually, xatruches became catrachos.
What's the local significance of this Trivial Pursuit knowledge? William Walker didn't go into Central America unsupported. His quest to expand slavery was backed by Southern financiers in the states, one of the most significant being Pierre Soule, a diplomat and senator from, you guessed it, New Orleans.