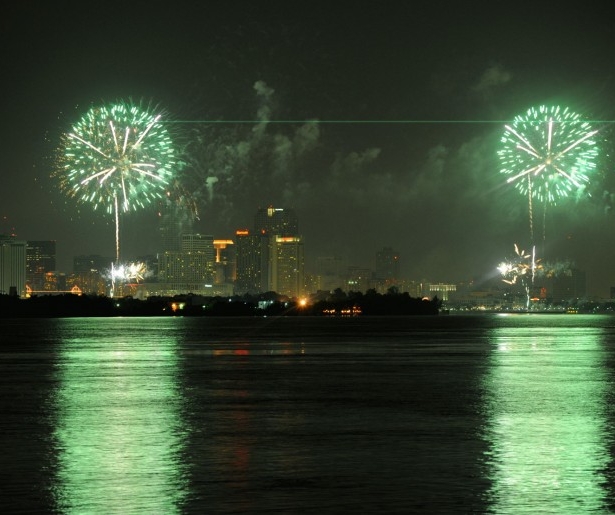 SHARE
There will be plenty of great spots for firework watching on the 4th of July, including Jackson Square, the Riverbend levee, and the second floor balcony of any French Quarter resident kind enough to let you into their home. But for this New Orleans & Me editor, there's only one good way to spend Independence Day: all day grilling and drinking on Bayou St John, followed by the purchase of copious amounts of fried chicken, and then a walk out to the End of the World.
This is not some cliff that overlooks the dark abyss of un-creation (although that would be cool); it's the place in the 9th Ward where the levee gets pinched out by the Industrial Canal. Nearby, the East Bank Naval Clinic lurks in the inky dark, a blocky concrete fortress, the last level (or levee?) in an early '90s Nintendo game.
To get here, you cross the railroad tracks, head up towards the grass and find a good spot to picnic and watch explosions. With that said, this year there may be a new, easier way of enjoying fireworks in the 9th Ward. The Crescent Park (entrance at Piety and Chartres) will be open on the night of the 4th, along with is landscaped lawns and quasi-industrial open space, which all provide excellent views onto the river and the fireworks show. See our guide to the park here. You could also drive into the Lower 9th Ward and head to the levee in Holy Cross, another spot with excellent sightlines onto the show. At any of the above sites, you'll be a midst local families and neighbors, while avoiding the shoulder to elbow crowds that pack the Quarter and CBD.
Here's a handy mapped depiction of the End of the World. Happy birthday, America!
Image courtesy of Wikipedia.