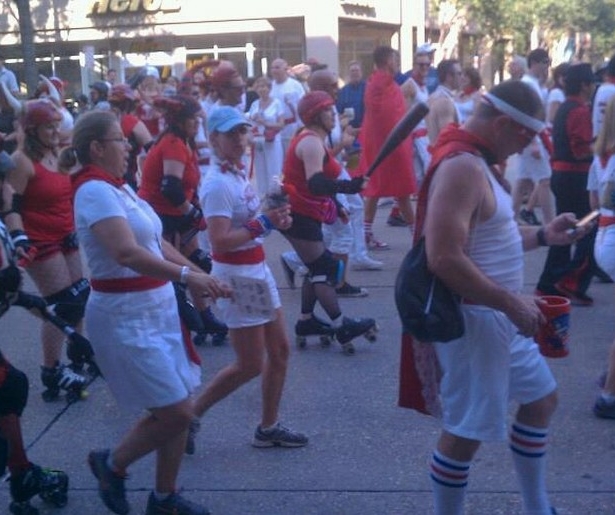 SHARE
San Fermin en Nueva Orleans – the NOLA Running of the Bulls – is almost upon us. On Saturday morning, at 8am, thousands shall gather at the Convention Center where they shall be pursued most verily by the Big Easy Rollergirls and other Roller Derby teams through the streets of New Orleans. Many a butt shall be slapped.
Our local encierro (bull run) has some major differences from that other bull run that they do in Spain, or whatever, YEAH 'MURICA. For example: you're not going to die from getting gored by several hundred pounds of stampeding bovine rage. On the other hand, you're gonna get very sweaty, right in front of that cute Loyola student who happened to run by you for the entire course, so when it's all dne and you sidle in for a smooth introduction, you realize it looks like you've swam a mile in dirty sweat water and you smell like a gym bag full of bananas. #Nolaproblems.
With this in mind: some tips on getting the most out of your bull run.
Hydrate
Jokes aside: the run is happening in July. In New Orleans. It's gonna be hot. And this being New Orleans, the pressure is gonna be on for you to drink. The problem is, a whiskey and soda does not hydrate you. Water does. So drink water, drink Gatorade, and also, drink booze. But try and match the fun drinks one for one with hydrating ones. It may storm Saturday morning, which may be a welcome break to the heat.
Dodge
There are two types of bull runners: the people who take it seriously, and the gaggle of drunk Mandeville folks who could give a damn. And every time you need to run because some roller derby blocker named Brute-Knee Smears is about to whack your behind with a waffle bat, you end up behind the tipsy, non-moving slowpokes. So judge that field of vision and dodge, dodge, dodge. It kind of makes it more exhilarating.
Toughen Up
Encierro veterans know: you will get rocked by a 'bull' on skates. No one gets through a run unscathed. The end of the course is a veritable gauntlet of bat smacks. And some of those derby girls hit hard. So get ready for it. Nothing buzzkills that rum and coke you had for a pre-run breakfast like a sharp smack to the posterior.
El Txupinazo
El Txupinazo is the official party that gets San Fermin rolling. You should attend it. Friday, July 11, at the Sugar Mill (1021 Convention Center Blvd), from 5-9pm. Spanish dancing, music, booze, and how much does it cost? Nada. That means nothing (well, you have to buy the drinks, por supesto).
After drinks
After I finish the run, I stick around for the party, but only for a little. Usually, I seek air conditioning and liquid sustenance at the Swizzle Stick (300 Poydras) or Chart Room (300 Chart Room). OK, the latter is still hot as hell, but it's a smoky, wonderful dive, so whatever.
Pantalones party!
The official post bull run after party, the fiesta de pantalones, kicks off at 4pm at Miason (508 Frenchmen) Remember how I said to go to the Swizzle Stick? Then Chart Room? Now drag your blitzed butt up to Frenchmen. Admission is free, although the hangover may cost you. That's why there's…
Poor, poor, pitiful me
El Pobre de Mi, held on Sunday at 12:30pm, is like the after after party. It's also held at Maison, but it's a lot ore laid back, and features tapas and a Hemingway look-a-like contest. Because nothing settles the stomach like chorizo and the sight of a Santa clone from Plaquemines quoting Death in the Afternoon.
Need more information? Check out Nola Bulls.