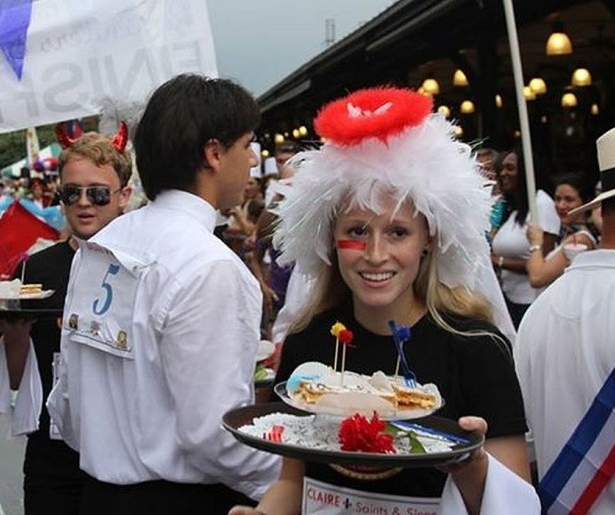 SHARE
Louisiana – and in particular, New Orleans – has a history grounded in French colonialism. The post-Colombian site of the city was marked and surveyed by the French, who carved out the Louisiana territory that would eventually be sold by Napoleon to the young United States of America. The influence of France can be felt at every level of New Orleanian civic life, from our cuisine to our architecture to our urban planning to our race relations to our music to our methods of brewing coffee.
Does that last one seem funny to you? Well, how do I know when I'm back in New Orleans? The heat, the humidity, the everpresent feeling of music, dimly felt and occasionally powerfully expressed via brass on a random corner, and local coffee. Our coffee comes the French way, brewed, as Talleyrand put it, Noir comme le diable, chaud comme l'enfer, pur comme un ange, doux comme l'amour, or, "Black as the devil, hot as hell, pure as an angel, sweet as love."
What I'm saying is: we owe a lot to France. And there's no better day to celebrate those ties that bind than Bastille Day (July 14). The holiday honors the storming of the bastille, a French prison, which marks the beginning of the French Revolution. In the mother country, the holiday is known as La Fête Nationale (the National Celebration).
How will America's most Francophile city celebrate? Let us count the ways. For more info, check out Bastille Day NOLA.
The Artist (8pm, July 11)
The Artist, the most French thing to happen to cinema since someone spilled red wine on Francois Truffaut, will be showing outdoors at the Latter Library (5120 St Charles Ave). Remember this movie? A silent film about the end of the silent film era? Lots of dancing? Like, lots of dancing? It's charming. And it's gratis. That's means free.
French Heritage Day (all day, July 12)
Get your kids hooked on expensive cheese and Monet early. Take the youngins to the Louisiana Children's Museum (420 Julia St), where there shall be said cheese, as well a Paris-style fashion show, croissants and, just to complete the clichés, folks in black and white striped turtlenecks carrying baguettes under their arms. I'm just kidding about the last bit, but the rest does sound fun.
Bastille Day Fete (3pm, July 12)
The Alliance Francaise de La Nouvelle-Orleans puts on the official Bastille Day Fete at Spanish Plaza (1 Poydras St). This being New Orleans, one can expect music and food and more music and maybe a little more food. I'm pumped for Feufollet, who are bringing their Cajun jams straight outta Lafayette (see them give a beautiful performance in the video above). Various French restaurants will bring the gastronomic fiyah. There will be mimes as well, because France.
The French Dog Contest (4:30pm July 12)
Well bonjour, petit chien! Also held at Spanish Plaza, the French Dog Contest is a chance to dress Fido (or is that Fideaux?) up as French as you like – berets, little chanel dresses, whatever. There are three categories: Most French, Best Dressed and Most Jules Verne. Proceeds benefit the Louisiana SPCA.
Faubourg St John Block Party (5pm July 12)
This is my personal pick for the weekend. The Faubourg St John block party kicks off at Ponce de Leon and Esplanade (right across from lovely little Alcee Fortier Park) and basically showcases the best of Faubourg St John, from Pal's to Café Degas. Also, there will be French music, bien sûr.
Lost Bayou Ramblers (10pm, July 12)
The Ramblers will come screaming out of the bayous of Acadiana with their ass kicking version of Francophone Cajun musical goodness. They're playing at Tipitina's (Napoleon and Tchoupitoulas). Be there.
Zy-do-do Brunch & Dancing (11am, July 13)
On the second Sunday of every month, the Tigermen Den in the Bywater hosts a Sunday brunch and Cajun dance party. Let's recap: that means there will be Cajun music (courtesy of T'Monde), Cajun dancing, Cajun breakfast (catered by the Mosquito Supper Club) and general Cajun levels of debauchery. All before noon. BOOM. SUNDAY FUNDAY, TAKE ME NOW.
CITroëNOLA French Car Parade (11am, July 13)
CitroëNOLA, the city's first French car club, will celebrate it's one year birthday by showing off some of the prettiest vehicles on either side of the Atlantic. There will be a slow parade up Frenchmen St, starting from the 700 block, which will be accompanied by the NOLA Scooter Cooperative and the NOLA Social Ride club. Lie music at Washington Squae Park afterwards.
French Market Bartenders and Waiters Race (4pm, July 13)
Waiters racing with full platters in their outstretched hands is the one bit of Bastille Day that every city seems to participate in, yet somehow, New Orleans still does it better. Face it: our servers have a style and flair other cities can only dream of. The race kicks off at Decatur Street between Jackson Square and the French Market at 4pm, but of course it starts with a little Second Line, led by Pinstripe Brass Band, on Decatur at 3:45 p.m.
French Mass (July 13, noon
A French mass is an evocative means of accessing and connecting to New Orleans' deep history of French Catholicism. This service will be held at Holy Name of Jesus Church, 6367 St Charles Ave.
Helen Gillet, 10pm, July 13)
Helen is a brilliant cellist who often sings in French. Her arrangements range from haunting to moving to flat out beautiful. Never miss a chance to hear her show off her considerable talent. She'll be playing at d.b.a.
The Laying of the Wreath (10am, July 14)
While I admittedly find this event to be kind of a meh finishing noteto an otherwise amazing weekend, the laying of the wreath at the statue of Joan of Arc (Decatur & St Philip) has lots of pomp and circumstance and is a nice way to kill time before having a drink at Molly's in the Market.
Image courtesy of Bastille Day Nola's Facebook page.