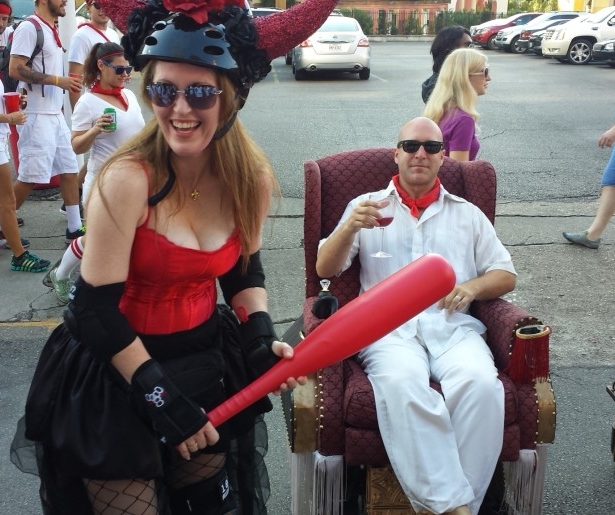 SHARE
It was a good run.
The 2014 San Fermin en Nueva Orleans, otherwise known as the NOLA Running of the Bulls, attracted thousands of runners, dozens of 'bulls' (ie. roller derby girls) and a general air of debauchery. Stray random observation: it seemed like less folks stuck around for the after party, and haded straight for CBD bars like Vic's, Lucy's and Barcadia. Were flks put off by the bounce music gettng pumped at the Sugar Mill? Possibly. And if so, that's a shame.
I will say: the above video sums up the event and New Orleans at her weirdest. Star Wars-themed Clone Troopers dancing in thigh highs in front of a music-pumping portable bull turntable/DJ booth. The officer at the end of the clip was not as much of a killjoy as you may guess, by the way; he didn't shut the dance party down, just moved it off of the street.
The Roving Musical Bull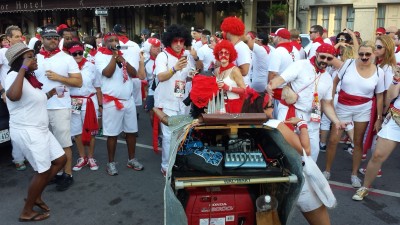 This thing makes an appearance at every San Fermin. It's a bull; it pumps music; it's a moving dance party. Happiness ensues.
The pageant of the Bulls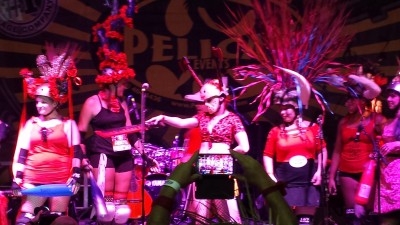 The 'bulls' in the NOLA Running of the Bulls are members of various Roller Derby leagues from around the country armed with wiffle ball bats. The best dressed assembled for a costume content at the end of the event. The Jason-esque Bull from Friday the 13th won, thanks in large part to a squirting blood prop.
Ole!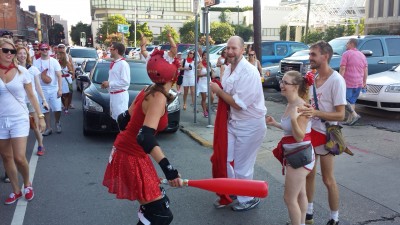 For the record, waving a red cape at a roller derby bull is a bad idea, unless you like getting smacked on the butt, in which case there are some very expensive clubs in the Quarter I should direct you to.
The King has left the Sugar Mill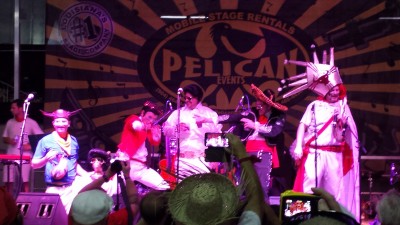 Just as there was a 'bull' costume contest, a crew of Rolling Elvi also made an appearance and threw a pageant of their own.
If you crossed a mohawk with a rainbow and hair extensions…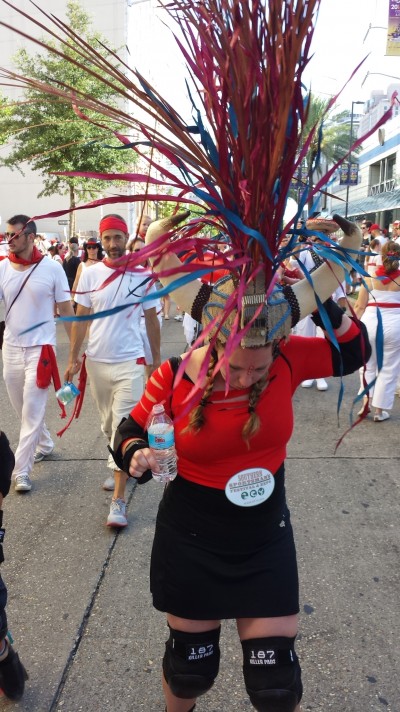 You'd get this impressive helmet and headdress, courtesy of the Cajun Rollergirls.
The New Orleans way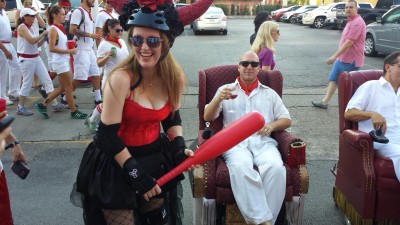 Why run, when you can race through the course with butt firmly planted in a mechanized La-Z-Boy, booze at hand.