POSTED Tue. Jul 15, 2014
The Best Cocktails Invented in New Orleans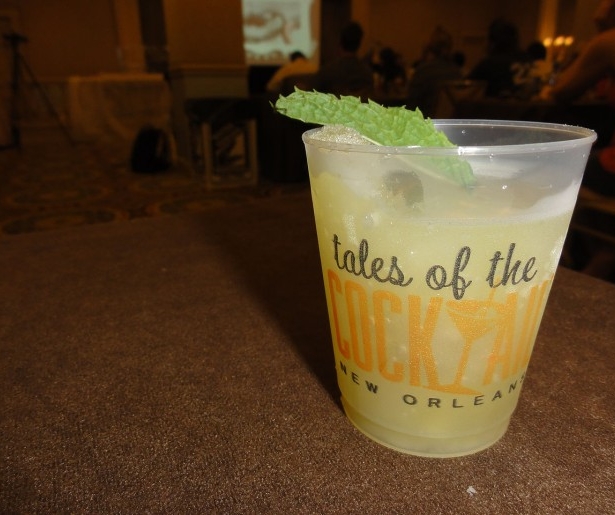 SHARE
Tales of the Cocktail beings on July 16 here in the Crescent City. Why hold Tales of the Cocktail here? Because New Orleans! We lay claim to being the founder of the cocktail. We've even got a museum dedicated to the theme. The story goes that French Quarter pharmacist Antoine Peychaud brewed his own homemade bitters, which were sold as an over the counter medicine. Peychaud figured out that if he blended said bitters with cognac, water and sugar, you got something that tasted very good indeed, a drink custom made for nights of carousing, laughter, flirtation, romance, bad karaoke – no, wait, this was the 1830s.
Here's where annoying facts step in: 'cocktails' were already mentioned in an upstate New York newspaper circa 1806, so historians say Nola can't lay claim to creating the drink. Well…whatever. Look, a cocktail isn't a cocktail without bitters. That's like a pizza without cheese. And while bitters existed prior to Peychaud, the man's recipe for them endures to this day, so as far we're concerned, the cocktail is a New Orleans original.
Also: while New Orleans may not have invented the cocktail as a concept, it's invented plenty of individual cocktail drinks. What follows are some of our favorites, and where to drink them.
Images: Sazerac courtesy of Wikipedia. Ramos Gin Fizz courtesy of the Southern Food & Beverage Insitute. Vieux Carre and French 75 courtesy of Arnaud's. Absinthe frappe, and lead image, courtesy of Wikipedia. Hurricane courtesy of Wikipedia.
1 Sazerac
The king of New Orleans cocktails. Originally made with cognac and absinthe, the modern sazerac consists of an Old-Fashioned glass coated with either absinthe or herbsaint (an anise-flavored liquor). A pour of rye whiskey, dashes of Peychaud and Angosutra bitters and a twist of lemon are added to create a drink that is…well, sublime. Dare we say, the sazerac is the perfect mixed drink: spicy and warm, yet oddly refreshing, with its lemon-y tang and the lingering acerbic favor of the absinthe/herbsaint. Tonique's version is second to none.
2 Ramos Gin Fizz
Back in the day, the Imperial Cabinet Saloon kept 20 bartenders working simultaneously at making nothing but Ramos Gin Fizzes, also known as a Ramos Fizz. The drink is a time-consuming one to create, but look: perfection comes with a bit of care and effort. And in this case, perfection also includes soda water, egg whites, sugar, cream, lemon and lime juice and orange flower water. This complex combination creates the signature 'fizz' that gives the drink a complex texture to compliment its excellent flavor. Local bartender Chris Hannah wrote on the Gin Fizz, and when to order it, here. Clearly, you need to enjoy a gin fizz at the Sazerac Bar in the Roosevelt Hotel (130 Roosevelt Way), seeing as the drink was invented there.
3 Vieux Carre
This excellent libation was invented in the French Quarter (surprise, surprise) at the Hotel Monteleone in the 1930s. As such, you really should down one at the Monteleone's carousel bar – just try not to fall out of your seat. Rye, cognac, bitters, sweet vermouth and a rinse of Benedectine (a herbal liqueur) complete the equation. It's a mature, complex drink, and frankly, it tastes bloody fantastic. Have one at its birthplace: the * Carousel Bar* in the Hotel Monteleone (214 Royal St).
4 French 75
Order a French 75 almost anywhere in the world – including many bars in New Orleans – and out comes a mix of gin, lemon juice, Champagne and sugar. And hey, that's a good drink; light, refreshing and effervescent. But no libation named for France should rightfully use English gin as a base spirit. The proper French 75 is made with cognac, which makes for an entirely different drink – while it depends on the cognac used, expect a smokier, richer flavor. This is the most 'no duh' thing I'll write today, but If you're going to have a French 75, drink the cognac version at French 75 (813 Bienville St), home bar of the afore-mentioned Chris Hannah.
5 Absinthe Frappe
Why, you may ask, would one frap and absinthe? Because it's delicious, that's why. Look: absinthe is cool and all, and there's a certain old world mystique to ordering it, but on its own it tastes like rotten liquorice that's sat too long in Hell's own pantry. On the other hand, the addition of mint and soda and bubbles makes the frappe supremely drinkable. Enjoy one at The Old Absinthe House (240 Bourbon St), where the drink was invented and is served to this day.
6 Hurricane
The Hurricane is the drink of the masses: a bright red glass of rum masked with a ton of juice, or far more often, syrup. It may be the quintessential American drink, in that it is loud and does not have an ounce of subtlety. Also, it may have originally been created as a marketing scam; local lore claims the drink was invented as a way of foisting crap rum off to the crowds. 'MURICA! Clearly, Pat O'Brien's (718 St Peter St) makes the world's most famous Hurricane, but be warned: all of that sugar and rum makes for a terrible hangover that reeks of kool-aid flavored vomit. If you're OK with drinking in a clothing optional gay and lesbian bath house, I prefer the version at the Country Club (634 Louisa St), which is made with real juice.