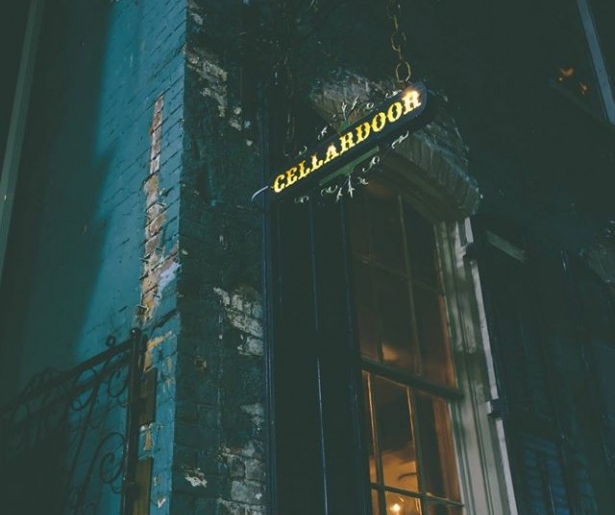 SHARE
There's a new option out there for those who need a place to drink, eat or both after kicking off work in the CBD.
CellarDoor, at 916 Lafayette St is the New Orleans contribution to a bar genre found across so many of America's often lifeless downtown districts: affected Old World aesthetic serving up modern mixology. I'm personally a fan of this sort of establishment; I'd rather have a cozy bar to repair to after work than an enormous megamall of neon drinks, $3 Millers and clouds of suits and ties (i.e. every bar in Baton Rouge).
This is New Orleans, so the studied effort to expose brick and create a veneer of worn ruggedness feels a little more authentic, given that so many structures here look beaten in without trying. And the CellarDoor's location is historic – specifically, the Swoop-Duggins house, one of the oldest structures in this part of town. But an older building does not equal an Old School drinking and dining experience. Every effort has been made to craft a specific look and feel that makes 21st century patrons feel like they've stepped back into an ancien regime New Orleans bordello that coincidentally knows how to cook contemporary cuisine and create craft cocktails. An unreconstructed neighborhood bar this is not.
Which is fine; if you want a neighborhood bar in the CBD, you could head to Vic's or Lucy's. CellarDoor, on the other hand, has bar nuts coated in nuoc cham (Vietnamese dipping sauce); chicken wings glazed with Filipino-inspired adobo marinade squid ink pot stickers. For all the ways CellarDoor references the 19th century, this is the sort of menu that simply would not have existed in this neighborhood even a decade ago.
Now New Orleans is a little more adventurous with her palette, and good for us as a city. You should eat everything I just mentioned, because these are good things and they will delight you gastronomically. Still, there are times when I'm a little overwhelmed by CellarDoor's hipness. One of the featured cocktails is called 'The Drink of Laughing and Forgetting', and while it is undeniably good, I am generally of the opinion drinks should have drink-y names, not Milan Kundera titles. You enter the place "through the spooky alley under the unassuming sign". There's featured artwork, mostly by the sort of contemporary British artists beloved by the Saatchi Gallery crowd, which is another way of saying it's the sort of conceptual art your mom would raise an eyebrow at while thinking 'My niece could paint that.'
But then, I'm complaining about what CellarDoor is without giving credit to its owners for doing a bang up job of making CellarDoor what they want it to be. And what they want, they have gotten: a historic New Orleans building converted into a so-modern-its-post art gallery, a restaurant that serves international contemporary cuisine, and a chic cocktail lounge. There is, frankly, no one else in New Orleans attempting this effort at this level of execution. So kudos. And stop by for boozy brunch; it starts next month, on August 5.
Image courtesy of CellarDoor.