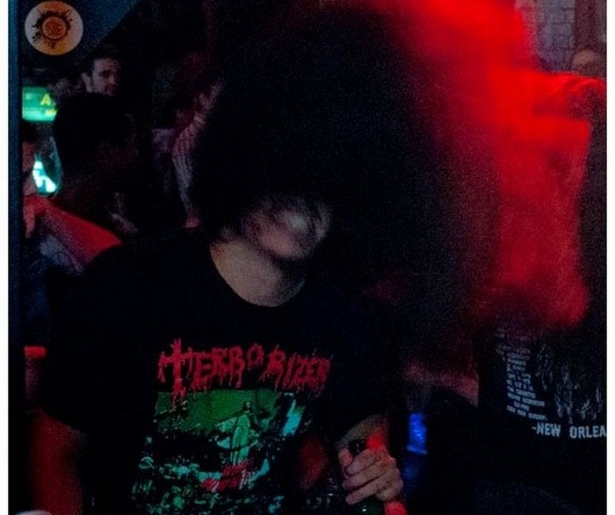 SHARE
You'd expect menace from a guy who runs something called "Creepy Fest," but in person, Bill Heintz is just a soft-spoken guy in an Evil Dead II t-shirt. His bandmate Nick Trumble (of Nick Name & The Valmonts) kind of looks like a punk-rock Jason Segel.
In the back bar at Mick's, the longtime friends give a serve-and-volley description of the festival, which they assure me is "chaotic, but awesome."
"There's shows that are going to be pretty insane, so if you're into that, it's there; then there will be other shows that are less insane, that aren't so stinky and intimidating," Trumble says.
"The chaos will be, like, people will throw garbage cans, but it's not at somebody," Heintz adds.
Now in its sixth year, Creepy Fest, which begins tonight, is a hardcore punk festival spanning four grungy summer nights at downtown dive bar mainstays. This year features more than thirty bands, including an out-of-town contingent from Texas and shock-rockers the Mentors.
In the past, these visiting acts were the exception rather than the rule—the fest has become a de facto reunion for those involved in New Orleans punk over the past few decades.
"There've been [local] bands that weren't doing much, but wanted to play Creepy Fest, so it kind of got them back together…it ended up helping the scene in some ways that were accidental. It wasn't supposed to be some big scene thing," Heintz says.
This year kicks off with a horror-themed burlesque act from Big Deal Burlesque, while Nick Name & The Valmonts provide a live soundtrack. On Saturday night (July 19), bands will convene at Checkpoint Charlie's for an eight-band marathon show that Heintz only hopes will end by two or three a.m.
According to Heintz, the fest's prevailing ethos includes not taking oneself too seriously. (I gathered this by checking out a flyer—bands named "Fat Stupid Ugly People" and "Donkey Puncher" are bound to have a sense of humor about themselves.)
"Even the most brutal bands that go out there and start smashing bottles before they even start playing a song. It's kind of in jest," Trumble says.
In a city where festivals tend to grow exponentially, gathering corporate sponsorships and cordoning off VIP areas, Creepy Fest stays true to its DIY roots. Heintz and his friends manage every aspect of the festival, from t-shirt printing to old-school flyer design. And though visitors from the greater Gulf Coast area have increased in recent years, Heintz isn't really hoping for Jazz Fest-style expansion.
"I think [the fest] might start losing sight of what it really is if it got too big," he says.
For Trumble, the most important thing is the way the fest kicks the legs out from under the concept of "New Orleans music."
"It's kind of a stigma, for me," he says. "Like, oh, you're a New Orleans band, you must be trying to rip off Professor Longhair and James Booker. Those guys, I listen to them, but that's not it [for us] at all…[Creepy Fest] shines a light on a different part of the New Orleans music scene."
Where Siberia, Checkpoint Charlie's, the Dragon's Den, Saturn Bar, more.
When July 17-20
How much Varies by show, often free.