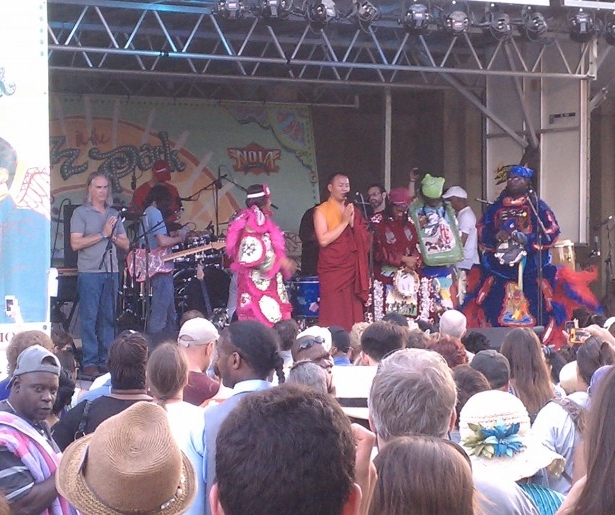 SHARE
I love this image from Jazz in the Park (Louis Armstrong Park) yesterday. A Tibetan monk chanting in the presence of the Wild Magnolias. Two different practitioners of two different forms of hymns – one that brings us close to enlightenment, one that brings us close to ecstasy. Both, I'd argue, integral to the New Orleans experience. After the monk left the stage, the Hot 8 Brass band promised to rock the crowd more at the Candlelight. I saw the monk smile from the food line I was standing in (for barbeque. Delicious, delicious barbeque).
With the Dalai Lama's visit occurring this weekend, it's been a big week for Buddhism in New Orleans, two subjects that are close to my heart. And that's funny, because on paper, 'Buddhism' and 'New Orleans' are pretty far removed from each other.
My mother is Buddhist. Not a Western convert to Buddhism, either; mom is from Myanmar, in Southeast Asia, and is a Buddhist born and raised. Now ostensibly, a large chunk of Buddhist theology concerns letting go of physical pleasures. Ostensibly, a large chunk of life in New Orleans is about embracing physical pleasures. But the only place in the world that loves to snack and eat as much as Nola is Southeast Asia. No one approaches a meal with a smile like a pious Burmese, Thai, Laotian or Cambodian. The two landscapes share a swampy, delta-y landscape and bounty, where flooding and disease are a threat on the one hand, and lots of fantastic ingredients are available on the other, and I think that contributes to their respective epicurean attitudes.
That said, Buddhism is not limited to Southeast Asia. The love of food I describe above probably has more to do with geography than theology. The Tibetan monk who chanted yesterday, and the Dalai Lama himself, come from an austere mountain kingdom – although even that kingdom embraces the visual in a colorful manner that reminds me of the bright houses of the Bywater.
But where Buddhism and New Orleans do share an emotional and spiritual bond is resiliency. Buddhism as a religion accepts the transitory nature of reality. New Orleanians, who have survived floods and poverty and inequity, have a similar acceptance of the transitory, one that can range from the stoic to the joyful. And Buddhism is a syncretic religion, a faith that is open to picking and choosing deities and practices from other belief systems. New Orleans is a syncretic town, picking and choosing the best practices of dozens of immigrant groups, melding them into a greater whole. And as the Dalai Lama made clear today: the Buddhist values of forgiveness, compassion and non-violence are all qualities New Orleanians should try and emphasize in their daily lives.
Look: I know Buddhism is a complex belief system that can't be reduced to what I wrote above, and New Orleans is a similarly complicated place. I'm just saying: this weekend, there has been a space where that faith and our city were joined hand in hand, and quite literally voice with voice, the Wild Mangolias adding their deep basso rumble to the drone of a Tibetan monk's prayers. And that was beautiful.
If you see the Dalai Lama this weekend, let us know how it goes.