POSTED Fri. Jul 18, 2014
A Visual History of New Orleans Jazz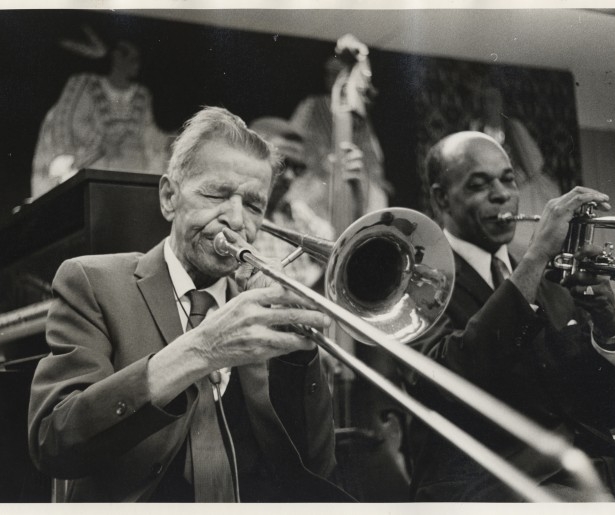 SHARE
Satchmo Summerfest, that celebration of all things historical and musical in New Orleans, is almost upon us (July 31-Aug 3, in case you were wondering). And in preparation, the Louisiana State Museum and the Old U.S. Mint have released some stellar images of New Orleans musical days gone by. Keeping Time: Extraordinary Images from Louisiana's Musical Past, opens on July 30 at 6pm at the Mint (400 Esplanade). Here's a preview. All images courtesy of the Louisiana State Museum.
1 Blanche Thomas
R&B singer Blanche Thomas's voice was like smoky honey, distilled. Her version of Am I Blue, available on YouTube, proves the point; I challenge you to listen to it without feeling a shiver run up your spine. Thomas as a fixture in Vieux Carre nightclubs, and has a brief cameo, performing in Preservation Hall, in King Creole (1958).
2 Antione 'Fats' Domino
Here's ol' Fats, flashing his ivories and stroking them too. The New Orleans icon turned 86 this year; long may he reign over our music and hearts.
3 Jack Laine's Greater Majestic Minstrels
This shot, from 1910, was taken at a time when 'jazz' was not even a word – during this period, the music was known as ragtime. According to A Trumpet Around the Corner: The Story of New Orleans Jazz, Jack Laine was one of the first, and certainly one of the most popular, white jazz musicians in the city. A New Orleans native, Laine (seated at front) was known for hiring light skinned creoles and immigrants into his band; the clarinet player standing behind Laine is Alcide 'Yellow' Nunez, whose parents were from the Canary Islands.
4 Edward 'Kid' Ory
The great Kid Ory, one of the city's most legendary trombonists and band leaders, famously discovered by Buddy Bolden while playing on Jackson Ave. Ory is notable for bringing his talent, and the music of New Orleans, to a national, and later global audience, thanks to recording time spent in Chicago and Los Angeles; Ory's Creole Trombone and Society Blues were the first jazz recordings made by an African-American jazz band from New Orleans on the West Coast.
5 Papa Celestin and Alphonse Picou
Band leader and trumpet player Celestin, a native of Napoleonville, appears here with clarinetist and New Orleans native Alphonse Picou at the Paddock Lounge, 209 Bourbon St (now the restaurant Remoulade). Both Celestin and Picou were descendants of mixed race Louisiana Creole families.
6 Tom Brown and the Five Rubes
Also known as 'Red Brown', Uptown New Orleans native Tom Brown (with the bass) looks like he's having a grand time in this 1915 shot. An anecdote: Brown's band was protested in Chicago by jealous local musicians, who asked Chicagoans not to patronize filthy 'jass' music shows. At the time, the word 'jass' likely had sexual connotations, but the protest only served to increase Brown's popularity; as you might expect, when people were told that an act was too sexy, they immediately flocked to said show. Brown would later brag about being the first white band leader to take jazz north, which suggests he knew the Original Creole Orchestra had preceded him.
7 Wynton Marsalis
Wynton Marsalis at a Second Line thrown in his honor, in the Treme, 2006. Yeah you right.