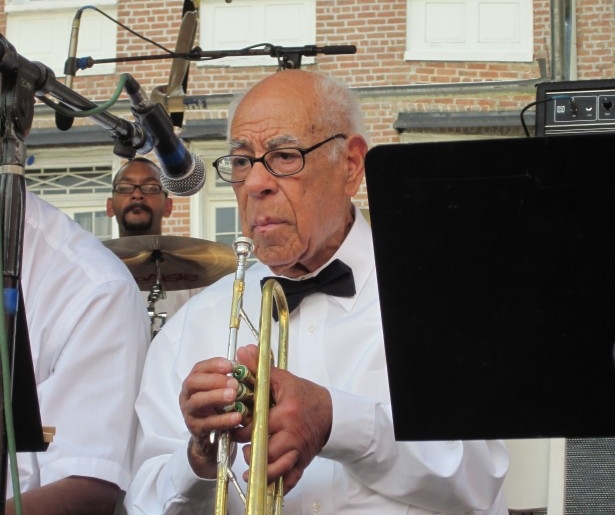 SHARE
Somber news clouded this weekend: Lionel Ferbos, the oldest living jazz musician in New Orleans, passed away at the age of 103 at his home on July 19.
Mr. Ferbos was born in 1911 in the 7th Ward. An asthmatic youngster, he was enraptured with music after seeing a performance by an all female band, but did not seem bound for a musical future, much less one that involved the sustained breathing techniques a horn player must master. Nonetheless, by the time he was 15, Ferbos was training with Paul Chaligny, making him one of the last musicians left in the world to say he learned jazz in the midst of the actual Jazz Age. Later, Mr Ferbos would receive lessons from musicians like Eugene Ware and Albert Snaer, all the while tooting on a cornet purchased from a pawn shop on Rampart St.
It was during the 1930s – the era following the Great Depression, when the dancing and debauchery of the Jazz Age gave way to some of the finest recordings and arrangements of jazz music – that Mr. Ferbos came into his own professionally and musically. He played with the New Orleans WPA Orchestra, composed of some of the finest local musicians of the time, as well as with the Starlight Serenaders, Fats Pichon and other legendary outfits of the era. The humble Ferbos always deprecated his own playing ability, saying he was in high demand because of his then unusual ability to sight read sheet music – a skill hammered home by Chaligny's early training.
Like many musicians, Mr. Ferbos held down a day job, and it was there that he met his wife of 75 years, Marguerite Gilyot (d. 2009). Ferbos went on to become a master metal worker, and it was this career, rather than music, that sustained him for much of his working life. With that said, music was always a part of his life, and Mr. Ferbos would tour overseas while holding down a regular gig at the Palm Court.
Rest in piece, Lionel Ferbos, and may you have a warm and loving homecoming. Above is a video of Mr Ferbos, backed by another since-passed Lionel – 'Uncle' Lionel Batiste – performing at the Palm Court.
Image courtesy of Wikipedia.