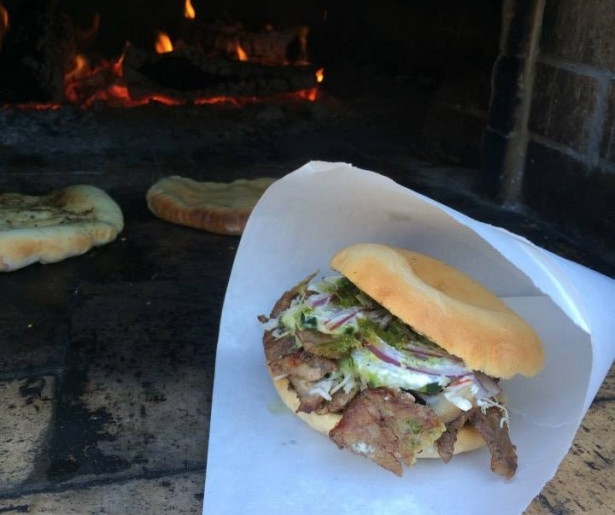 SHARE
Ever had a kebab? A real one, a doner: late night drunk food of the European masses and iconic culinary ambassador of Turkish gastronomy. Slow cooked meat circling softly and slowly on a spit, marinating and melting in its own decadent umami-ness, waiting to be enveloped by fresh vegetables and a soft, pillow-y pita and topped off with some garlic sauce. Or in the case of Kebab's kebabs, a habanero sauce that does not suffer fools lightly; heed the warnings on the bottle and dab a little on your plate, because son, that ish is spicy.
Some nice things about Kebab: there's fun pop art on the walls, because we're on St Claude Ave, folks, and at this stage fun pop art is de rigeur for a St Claude eatery (tattooed serving staff is second on the list). It's cheap as chips; my wife and I walked away from a filling meal for two, with drinks (non-alcoholic, but you can BYOB) for $25. That included a small tip to the counter staff.
Also the lamb special is delicious – this is no rotating elephant leg of Grade E chicken beak and horse bung. This is real deal, high grade carnivore goodness. In ancient Greece lamb was sacrificed to the Gods because it's scent brought a sweet sense of satisfaction to the lords of Olympus; I will say I channeled some of my inner Zeus, because the smell of roasting lamb in Kebab had me flipping olfactory cartwheels.
Also if you're a vegetarian, you'll be as happy as a T-Rex in a cattle station, because the falafel is spicy and firm, of many textures and excellent flavors.
Also the hummus is creamy and wonderful, and I would happily eat a piece of drywall if it fell into said spread.
Also the fries are good. I like a restaurant that doesn't treat fries like an afterthought. These fries were treated with love, care and a nice amount of oil – they were pleasantly soft but hardly soggy, and they had the internal fortitude to withstand a prolonged sauce dunk.
Also I generally hate salads and the beet salad here was great. A little oil, some cheese crumbles, some fresh greens, and my derision for plant-based food vanished like, well, a kebab after a night of drinking.
Also if you are lazy like moi, Kebab does limited delivery to the 7th and 8th Wards, Marigny, Bywater and St Claude.
Plus, there's pinball machines. Winning.
Kebab
2315 St Claude
504-383-4328
3pm-midnight, daily
Image courtesy of Facebook.