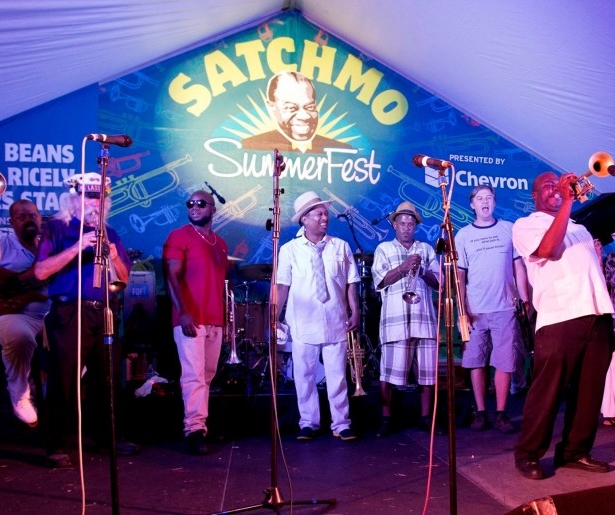 SHARE
August is the month for locals in New Orleans. Only residents want to deal with the heat; only residents care to risk a hurricane.
In the same vein, our festival calendar takes on a more local cast as the deepest, doggest days of summer broil the asphalt. While people from all over the world care about the musical history and legacy of New Orleans (see: Jazz Fest), Satchmo SummerFest (Jul 31-Aug 3) addresses the depth and breadth of that history in a manner that outsiders may appreciate, but locals love.
What we're saying is: we've got your plans for the weekend, and it is learning New Orleans music, from her rustic roots to her Second Lining present.
On one level, there's simply immersing yourself in live New Orleans music: three days and two stages dedicated to our city's sounds in general, and Louis Armstrong in particular. Our picks include John Boutte and Charmaine Neville on Friday, and the Brass-a-Holics, Treme Brass Band and Japanese artist Yoshio Toyama on Saturday. For me, the standout event of the festival is the Jazz Service and Second Line at St Augustine Church (1210 Gov Nicholls); mass starts at 10am, and the Second Line kicks off at 11:30am. Expect many musical tributes to the late, great Lionel Ferbos, who passed away on July 19.
Anywhere you turn the music will be good. What Satchmo particularly offers is a wealth of lectures and exhibitions on the history of New Orleans music. This material can be found throughout the year, but rarely is it so cohesively packaged and available in one condensed space.
At the Old US Mint, the Louisiana State Museum will feature free exhibitions on instruments played by Louis Armstrong and other New Orleans artists, and photographs drawn from their enormous jazz archives. And there will be seminars Friday through Sunday from 11:3am-4:30pm on the 3rd floor of the Mint; topics include the African Roots of Jazz (Aug 1, 3:30pm), Louis Armstrong and Food (Aug 2, 12:30pm) and the Jewish Connection to Jazz Roots (3:30pm, Aug 2).
Beat the heat this weekend, New Orleans. We'll see you at Satchmo. A full schedule of events can be found here.
Image courtesy of Satchmo SummerFest.