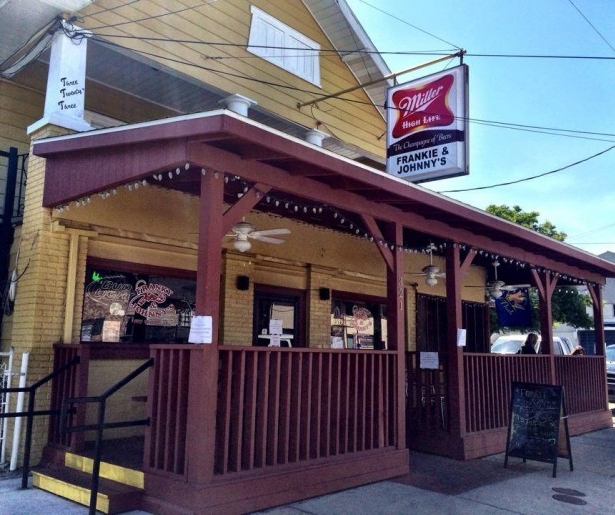 SHARE
The first time I went to Frankie & Johnny's, with my buddy Dave, we drank Abita at the bar and ate fried seafood, and to slightly plagiarize Hemingway, I was happy in the way one can be when it is late spring and there is Abita and fried seafood.
That kind of happy doesn't require a dive-y atmosphere, but it is helped by dark lighting, scuffed floor and scratched Formica. The food was good – it's hard to screw up fried seafood – and my enjoyment of it was heightened by feeling like a drop in the long river that was the existence of Frankie & Johnny's. I was in a highly iconoclastic place, sodden with layers of individual character and attitude, which was simultaneously an integral piece of the community, a quality that is a microcosm of the appeal of New Orleans write large. We are a city made up of highly individualized locations strung together via long history and deep communal and neighborly ties.
Then the dive atmosphere became too much. Health concerns arose. Frankie & Johnny's was shut down.
But this piece of old New Orleans rebounded, adapted. Frankie & Johnny's re-opened. Here's how it is now.
The interior is still cozy, but no longer dank. The floor is a little brighter, but the bar still retains a well-worn sense of warmth, and if the booths and tables are new, they still feel well-loved. The wait staff is still friendly and familiar in the best New Orleans way. The clientele is still families, and the TV still shows local news. It's cleaner, but it's not different.
There's a handsome outdoor seating area now, which is good, because Frankie & Johnny's mainstay is crawfish, and crawfish tastes better when eaten outside. The same can be said, to a lesser degree, of my beloved fried seafood, and that is what my wife and I ordered
That and the three way Louisiana sausage appetizer. I expected one hot, one smoked and one boudin; what arrived was one crawfish sausage, one shrimp sausage and one gator sausage. The shrimp I could pass on; it's fishy, and doesn't have the firm bite and expected spicy blast I want out of a sausage. The crawfish sausage resides in a similarly briny neighborhood, but there's enough umami in the package to carry the final result. The gator sausage is brilliant; bright red, with a hot kick and a satisfying solid snap when you bite into it.
Our seafood came out in catfish, shrimp and oyster form; all good, a high level execution of frying technique, if not exceptional. If anything, there wasn't quite enough flavor; perhaps the cleanest element of the new Frankie & Johnny's is the oil. The old stuff seemed to carry the weight and flavor of years behind it, whereas this fry job was almost too light. But too light is an issue for eaters like myself who like a flavor punch in the mouth; it seemed to please my dining companions just fine. I will say: if you're in the market for seafood, it seems pointless to order a platter when the po-boys are done so well. The bread is solid and holds its consistency against a thick roast beef debris, and the flavors of the fried food work better in concert with a dressed sandwich then naked next to a plate of fries.
We skipped desert and I wasn't able to get to pasta, fried chicken or other specials on this trip, although I've heard excellent things about all of the above, especially the chicken. Next time. And there will be a next time; as I prepare to welcome a child to the world, I keep my eyes peeled for family friend restaurants in New Orleans. Frankie & Johnny's is family to the core, in management and clientele, even as it retains a unique spark that so many family friendly restaurants in America lack.
Image courtesy of Frankie & Johnny's.
Frankie & Johnny's
321 Arabella St
Mon – Thu: 11am – 9pm
Fri – Sat: 11am – 10pm
Sun: 11am – 9pm