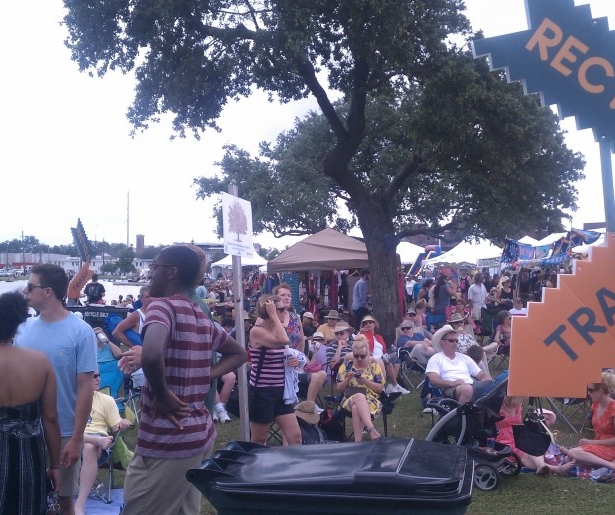 SHARE
Of all the 'low-key' festivals of festival season, I think I love Bayou Boogaloo best. It doesn't necessarily have the best musical lineup, and the list of exhibiting artists seems small compared to, say, Jazz Fest (that said, there was plenty of great art present). There was a good range of food vendors considering the size of the Boogaloo, and let me say, now and officially: I have an addiction issue with the patties served at Boswell's Jamaican Restaurant in Mid-City, and may need an intervention.
In all seriousness: I think I love the Boogaloo because, unlike Jazz Fest and French Quarter Fest (and I love both of those events, especially FQF), the Boogaloo feels like such a sunny day out for all of New Orleans. It's fun for families, but it's not stodgy. It's full of our beloved freaks, but it's not so aggressively weird you wouldn't want to take your kids. There's snowballs, and there's beer and daiquiris. Folks kayak with their kids, and with dogs done up in crazy costumes.
At the end of the day, maybe I love the Boogaloo so much because it is the party for what is pretty much my favorite neighborhood in the city: Faubourg St John. I daydream about owning a house out here. There's such a fantastic architectural mix, ranging from simple-but-elegant shotguns to grand-columned mansions to Franco-Caribbean villas to a few little cottages that consistently melt my heart. Plus: I need to live by water, and the calm course of Bayou St John instills a deep sense of Nola Zen in my soul. When the sun blazes the trees in the early evening and the breeze picks up over the water and folks sit on their stoops and the air just feels right…that is when I am deeply, deeply in love with New Orleans.
The Boogaloo distills all of the above, and the residents that inhabit it – a mix of artists, entrepreneurs, cooks, musicians and neighbors (in short, New Orleanians) – and churns out a festival that is just…pleasant. And in this city of high passion and strong emotions, pleasant is a nice space to inhabit.
Pleasant is Bayou St John.
PS: Want to keep Bayou St John pleasant? Then contribute to this wonderful project, aimed at restoring the area's original wetlands, which will aid local biodiversity and flood protection. For more information on managing the Bayou, an irreplaceable New Orleans natural resource, check out this report (slightly dated, but still very much worth a read).