POSTED Tue. Aug 5, 2014
The Best Delivery Options in New Orleans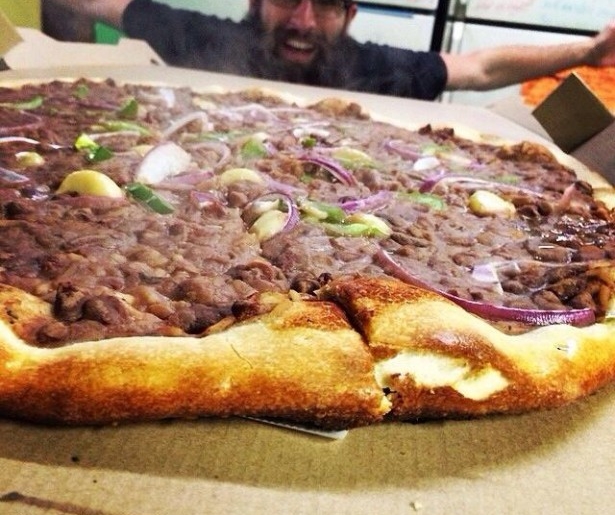 SHARE
We're entering the dog days of summer, when scorching heat competes with torrential rain for the weather du jour. In these trying times, we praise the drivers who bring everything from pizza to sushi to our doorsteps. Below, find seven great delivery options in town. And remember, as cited by many a pizza box, a delivery charge is not a tip for your driver.
1 Mikimoto
This full-service sushi restaurant delivers everywhere from the CBD to Lakeview, bringing shumai, tempura and extravagant rolls to the hungry and hung over.
2 Verti Marte
No list of delivery options would be complete without this Quarter institution, which serves po-boys, hot plates and breakfast. Pros: open 24 hours, cheap, will deliver to bars. Cons: perennially surly service, but it might be worth it for the 'All That Jazz' po-boy (ham, shrimp, cheese, "Wow" sauce, at minimum.)
3 Five Happiness
Ah, Five Happiness above-average Chinese food, delivering to the Riverbend, Mid-City and Uptown. For the best value on their menu, we suggest the combination plates, with shrimp fried rice and an egg roll. The cash-strapped can easily squeeze two meals out of one combo.
4 Mid City Pizza
You can get pizza from any of the city's local chains (Reginelli's, Theo's, Italian Pie, et al.), but we'll tip our hat to Mid-City Pizza (4413 Banks St., 504-483-8609), next to Banks Street Bar. With New York style pizza and creative toppings like asparagus and SPAM, their menu doesn't disappoint.
5 Moon Wok
Noodle bowls and spring rolls are the highlights of this Chinese-Vietnamese restaurant that delivers downtown. A solid option if you're too sick to leave the house and need emergency pho to make it through the afternoon.
6 Balcony Bar
Open late. Real late. That's what we like about Balcony Bar (3201 Magazine St., 504-894-8888), which does quesadillas, calzones and classic bar food like mozzarella sticks in addition to pizzas and burgers. A good choice for the service industry crowd getting home after midnight.
7 SukhoThai
As the O.G. Thai restaurant in town, SukhoThai is a little bit spendy, but it's worth it when you crave a good curry or when you've given up meat for Lent. They've revamped their menu, and the results are tasty.