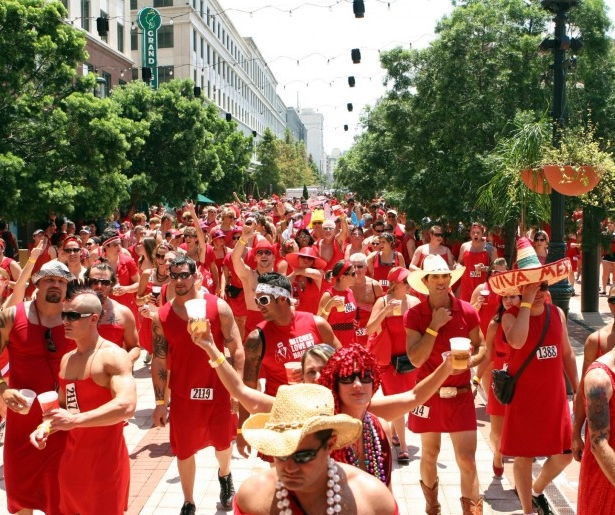 SHARE
If you're visiting this weekend and narrowly avoid getting trampled by a crowd of thousands of men and women wearing red frocks on Saturday, don't worry, it's just another weekend in New Orleans.
Actually, let's be fair: it's just another weekend in the world. Because while the Red Dress Run happening in New Orleans on Aug 9 is a crucial component of the city's summer social calendar – this year marks the event's 20th anniversary – it is but one of hundreds of similar Red Dress Runs. It just happens to be the biggest one in the world.
In some ways, this is totally logical – what city is going to celebrate mass cross dressing and alcohol consumption better than New Orleans? – and in some ways it doesn't make a lick of sense. New Orleans in August is swamp hell oven where the mere act of stepping outside to get your mail drenches one in sweat. Who'd throw a running event in this city in summer? Oh wait, this is hardly the only one.
Also, Red Dress runs aren't indigenous to New Orleans. They're A Thing in all corners of the globe. The runs are sponsored by and derive from Hash House Harrier clubs, which originated in British Malaya (now Malaysia) back in 1938 and are still found in British Commonwealth countries. That may seem like a weird genesis for an event that has become so quintessentially New Orleans, but hey, it's not like we as a city are averse to integrating the vagaries of colonial history into our lives ( for reference, see, er: our architecture, food and culture).
I won't go too into hashing and its history and associated customs (more here if you're interested); suffice to say, hashing is a combination of running and orienteering with a focus on drinking at the end, and it's popular in New Orleans. The Red Dress Run is basically a chance for people to get into slinky red outfits, race around, raise money for charity and yes, get sloshed.
You need to register to run, and at this stage, that needs to be done in person. Either show up at the Red Dress Expo (August 7 and 8) at the Fairgrounds Clubhouse (1151 Gentilly Blvd) from 4-9pm ($70), or show up at Armstrong Park with $80 on the day of the race at 9am. To quote NOLAH3 (i.e. Nola Hash House Harriers), "We really urge you to try to avoid day-of pickup [registration] because it is a major cluster funk."
The money gets you all the booze you can drink before 11:15am, when the Browncoat Brass Band leads hashers/red dressers to the race start. Look, you could lurk around the French Quarter in a Red Dress, but then you're not getting the morning alcohol fest and post race entry to shows by Flow Tribe and Five Finger Discount (where the booze buffet continues). Also, you won't have the official racing bib on, so everyone's gonna know you're a poseur. LAME.
We'll give the usual caveats: hydrate like hell because it's gonna be just as hot, have fun scaring the tourists, but be kind of gentle about it and hydrate some more. And enjoy the surrealistic sight of some awesome culture collision. New Orleans is a city that loves to dress up, of course, but there's a certain bohemian set that tends to go in for crazy costumes. Red Dress Run attracts folks of all stripes. There's plenty of the usual NOLA cast of freaks and geeks and everything in between, but with that said, I don't know that I've ever seen so many pickup driving, LSU bumper sticker sporting dudes from the suburbs slip into crimson negligee as I've seen at a Red Dress Run.
Image courtesy of NOLAH3.