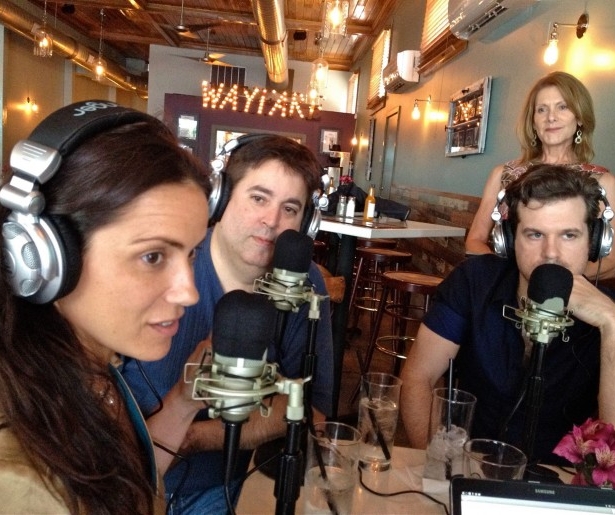 SHARE
We're always up for pointing you towards irreplaceable slices of New Orleans flavor. To this end, put on those headphones (Well, if you're at work) and bend an ear to the latest podcast of It's New Orleans: Happy Hour.
It's New Orleans is a local web radio show that's dedicated to any and everything New Orleans; Happy Hour is a show that, by its own description, features 60 minutes of "random conversation with folks who have nothing in common, other than being New Orleanians in a bar." Have you ever seen Drunk History webisodes on Funny or Die? It's a little like that; just replace celebrities with a New Orleans neighbor. The show operates from the position that hearing someone expound on life, the universe and everything can be tedious in general, but when fueled by, say, a cucumber cooler at Wayfare (4510 Freret), it's damned enjoyable (note: this rule applies across life).
I'm not throwing out random drinks or bars; Wayfare is where this latest Happy Hour is recorded. Have a listen to the latest episode, which features local rocker Jak Locke, Lena Sendik, who opened the Balance Integrative Health Center (2121 Magazine) and has distant family connections to the Milwaukee mafia (no, really), and filmmaker David DuBos, who is working on a biopic about John Kennedy Toole, author of Confederacy of Dunce.
What we're saying is: if you're not currently at a New Orleans bar, this is kind of like eavesdropping in one packed with interesting people. Albeit sans drinks. Which sounds kind of sad, so maybe pour yourself a bourbon on the sly. Find the full show, and its associated archives, here.
Image, courtesy of It's New Orleans: seated, from left to right: Lena Sendik, David DuBos and Jak Locke.