POSTED Fri. Aug 8, 2014
How We Like Dem Erstahs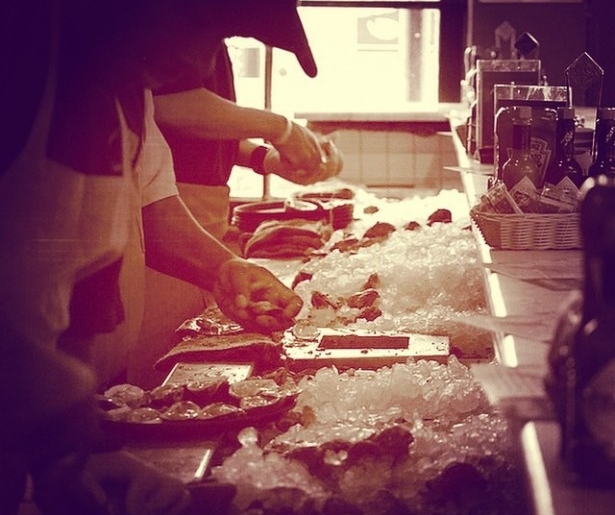 SHARE
This has been a week of much oyster related news, which is not a sentence I can typically type. But lo; National Oyster Day was August 5, and soon (perhaps as early this weekend), the Half-Shell Oyster Bar & Grill will open in Faubourg St John at 3101 Esplanade.
OK, two oyster-related bits of news may not seem like much, but when anything oyster related goes plural in a week I call that a veritable bivalve news tsunami. So with this in mind, here's my five favorite oyster experiences in New Orleans.
1 Raw
I'm an oyster purist, and as such, I like my mollusks raw, on the half shell, with no accoutrement except for a bit of horseradish between slurps. This is the best way of appreciating the true essence of the animal, of tasting its saltwater soul and soil. It Is Known. There are many excellent spots for raw boys in New Orleans – favorites include the white linoleum cube of Casamento's Uptown, the smoky dive of a Riverbend sports bar that is Cooter Brown's, the happy hour oyster deal at John Besh's Luke in the CBD, and in the French Quarter, Acme and Felix's – both classic, old school New Orleans oyster houses that are still wonderful for all the tourism attention they receive.
2 Fried in a po'boy
Raw fetishist that I am, I cannot deny that of all the things that can be fried in this world, an oyster is one of the best. It just works; the plump, juicy texture of a good oyster is like a maritime Christmas present following the oily, crunchy skin of fried batter gift wrapping. Two spots in town make my superlative fried oyster po'boy: the classic version at Freret Street Donuts & Po'boys (4701), which is he platonic ideal of the sandwich, and for those with a (delicious) death wish, the Peacemaker at Mahony's. That's fried ousters topped with melted cheese and bacon; it is rumored the Lord made one for lunch on the eighth day.
3 Slessinger-ed at Katie's
Go to Katie's for more than the oysters slessinger. It's one of the best mid-range neighborhood restaurants in the city, a fine spot for both people watching and stick to your ribs dining.
With that said, OhMyGodTheOystersSlessinger. These are char-grilled oysters with melted cheese, shrimp, bacon, spinach and butter. In a city that defaults to decadence, they are a week-long Roman banquet followed by a full day of gladiator combat at the Coliseum finished with a party like that one scene from Eyes Wide Shut with the robes and the masks, YouKnowTheOne. Except with melted cheese, shrimp, bacon, spinach and butter.
4 Rockefeller-ed at Antoine's
You know where the name 'Oysters Rockefeller' comes from? John Rockefeller, who was the richest man in America when the dish was invented in 1899 in Antoines. The dish earned the name because its sauce was so intensely rich, a quality it retains to this day, although 'Oysters Bill Gates' doesn't quite sing the same way.
Antoine's, for what it's worth, is the oldest family owned restaurant in the country, so it's kind of a must stop destination. And if you come, get the Rockefeller: oysters on the half shell cooked with butter, parsley, bread crumbs and other secret ingredients; Antoine's insists all other versions of the dish are incorrect knock-off of their original recipe.
The above image? That's Franklin D. Roosevelt and then-New Orleans mayor Robert Maestri dining at Antoine's in 1937. Maestri turned to the president and reportedly said, in the Yat-est of Yat accents, "How ya like dem erstuhs, Chief?", and somewhere, an angel got its wings.
5 Bearded in a dance troupe
Mardi Gras season is always spiced up by lots of homegrown dance teams that liven up the parade routes. One of our favorites is the Bearded Oysters. Did I mention said dancers tend to have double entendre troupe names? If I need to expound any more on this, we'd stop being a family website.