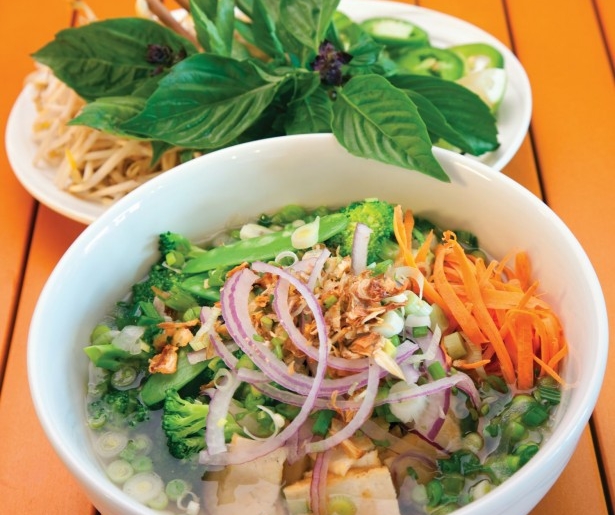 SHARE
"Everybody has a story of their life," says Ann Benoit, food photographer, writer and cookbook author. For her latest book, New Orleans' Best Ethnic Restaurants, Benoit takes the reader on a journey through some of the city's cuisines that don't share the spotlight with po-boys and jambalaya.
Using photography, simplified recipes and rich anecdotes about the immigrant families who live and cook in the city, she tells the story of the members of an inclusive culinary culture that dates back to New Orleans' earliest days.
"[In 1772, Governor Bienville's housekeeper] Madame Langlois, who owed much of her knowledge to the local native Americans, introduced young women to filé, grits and shrimp, cornbread and wild honey, succotash, fish, crabs and the local wild rabbit," Benoit writes. "Thus was New Orleans truly settled."
In this volume, part of Benoit's "New Orleans' Best Restaurants" series of cookbooks, she represents every conceivable international cuisine. The book spans from the obligatory French and Italian offerings of La Crepe Nanou or Angelo Brocato's to dishes less familiar to the local palete, including the Ethiopian Cafe Abyssinia and Eastern European pierogis at Kuknya, the restaurant inside Siberia.
Each entry mentions the restaurant's chef and gives a short description of the dish or its background. Some of these descriptions are historical, such as an explanation of the Chinese belief that serving a whole fish ensures prosperity in a recipe from Jung's Golden Dragon. Others offer a glimpse of the owner's or chef's personal life.
"[For this book], I was looking for various mom and pop or smaller restaurants that do not advertise, but who are making a living, and are making a good living," she says. "I really enjoyed meeting the restaurant owners, who are very hard-working people."
Image from New Orleans Best Ethnic Restaurants by Ann Benoit, © 2014 Ann Benoit LLC, used by permission of the publisher, Pelican Publishing Company.
As research, Benoit searched her personal library of Louisiana history books, as well as old newspapers, census data and genealogical information. She often found information about food mentioned as an aside or footnote, then worked backwards to trace the information and to understand its value. She also did field research, saying that every taxi driver, gas station clerk and mailman can give you a dining recommendation.
"Everybody in New Orleans has a favorite restaurant, and everybody wants to tell you their opinion about that restaurant," Benoit says. "I love driving around looking for someplace and finding some hidden little restaurant…going in there, hopefully finding something great. It's all adventure, in a way."
Between paella recipes from Spanish restaurants or a recipe for Dong Phuong's well-loved banh mi, Benoit unexpectedly turns to Cajun, creole and soul food in a category she terms "American Ethnic."
According to the author, these cuisines were created in America using New World foods. K-Paul's shares its recipe for a four-cheese stuffed pork chop, while Galatoire's features its trout meuniere amandine. Benoit argues that these are what people think of as typical New Orleans restaurants, but their cuisine is often identifiable with a specific ethnic group, and has spawned a wealth of local and exported products that belong to the "American Ethnic" classification. She mentions the Zatarain's company as an example of how these "American Ethnic" foods have worked its way into the culture at large.
Benoit arrived at her passion for cookbook writing after a string of pursuits, including professionally evaluating restaurants as a consultant and practicing law while writing on the side. She inherited a passion for food and cooking from a Cajun grandfather and an Irish-by-way-of-Louisiana grandmother. It's never occurred to her to not cook herself breakfast and dinner, though ethnic food has a long and cherished presence in her life.
"I was at Pho Tau Bay when it opened," she says. "One of the things that happened to me in the course of this is that I discovered I have to eat Vietnamese food once a week; I have to eat Middle Eastern food once a week."
To celebrate the cookbook and to give readers a chance to taste some of the recipes inside, the Hubbell Library in Algiers (725 Pelican Ave) will host a free event on Tuesday, August 12, starting at 6:30 p.m. Benoit will sign copies and lead a roundtable discussion of its contents and her writing process. In addition to promoting the book, the event will serve as a fundraiser for the library.
Image of vegan pho broth from New Orleans Best Ethnic Restaurants by Ann Benoit, © 2014 Ann Benoit LLC, used by permission of the publisher, Pelican Publishing Company.