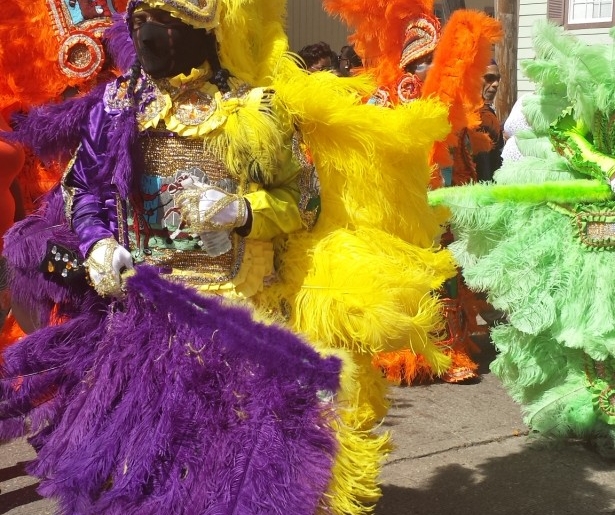 SHARE
The Mardi Gras Indians are arguably the most iconic element of unique New Orleans street culture, and while their official masking period falls in late winter and early spring, this week, in the midst of summer, they are taking the time to celebrate their own.
The tribes will do so via the Mardi Gras Indian Hall of Fame, which is currently celebrating its sixteenth annual week of celebration. In previous years, Indian tribes have celebrated the complex social hierarchy of their organizations by recognizing each 'rung' of tribal structure via a yearbook. The first, released last year, was in honor of Spy Boys, who scout ahead of the tribes as they mask through the city. This year, the Mardi Gras Indian Hall of Fame will, via similar yearbooks, recognize the Flag Boy and Gang Flag – those individuals who bear the beaded and feathered banners of their respective Indian tribes.
A complete schedule of events is listed below.
Wednesday, August 13
Year of the Flag Boy and Gang Flag Yearbook Release and Book Signing
Community Book Center (2523 Bayou Rd)
5-7pm
(Free and open to the public)
Friday, August 15
Honors Breakfast hosted by Ashé Cultural Arts Center
Ashé Cultural Arts Center (1712 Oretha Castle Haley Blvd)
9-11am
(2014 Honorees and Mardi Gras Indians with RSVP)
Saturday, August 16
Crystal Feather Honorees' Reception
Basin Street Station
6-8pm
By admission
$25.00 per person
Sunday, August 17
16th Annual Mardi Gras Indian Hall of Fame Awards and Memorial Ceremony
Ashé Cultural Arts Center
3-5pm
(Free and open to the public)