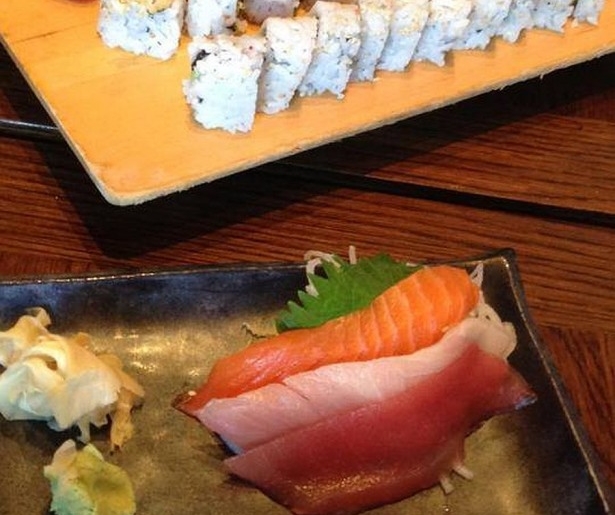 SHARE
Ever wanted to eat sushi, drink Japanese beer, and watch sumo-wrestling demonstrations while you eat your sushi and drink that Japanese beer!? Then the inaugural New Orleans Sushi Fest is right up your alley. The event takes place at 2pm on Sunday, August 17th, at the River City Ballroom next to Mardi Gras World (1400 Port of New Orleans Place). All afternoon, various sushi and non-sushi restaurants will serve Japanese infused entrees, including many with a New Orleans tint, like Chiba's delicious Satsuma Strawberry Roll.
Sushi may not be the first dish to come to mind when surveying your New Orleans dining options, but one can't eat poboys and oysters for every single meal, especially when there's terrific sushi spots scattered about town, like longtime Oak Street staple Ninja (8433 Oak St), or the more bustling atmosphere of Rock N' Sake in the CBD.
New Orleans Sushi Fest will gather all the best crescent city sushi chefs for a lively cooking competition. Each participating chef will have their dish ready for submission at the beginning of the festival, and then a panel of six judges will taste, deliberate, give out various specialty awards, and eventually crown a 2014 Grand Champion to be featured in the October issue of New Orleans Magazine. Festival attendees will also vote via social media for their own People's Choice Champ to be announced at the end of the day.
Beyond the competition, the festival includes a Japan Club sponsored art room that features origami, traditional fan painting, and other Japanese crafts. There's also the aforementioned sumo-wrestling match demonstrations; if that doesn't intrigue you I don't know what will. Performances from Japanese drummers, dancers, and New Orleans mainstays Bag of Donuts will provide the musical entertainment. Expect kabuki make-up and extravagant costumes to be a large part of the band's always flamboyant show.
Cooking sushi is an art form, a combination of traditional technique and culinary creativity. Having so many local sushi aficionados in one place presents a chance to learn about how area establishments incorporate New Orleans food culture into their Japanese menus. Some other participating sushi restaurants include Daiwa, Lakeview Pearl Sushi Bar, and Tsunami, just to name few.
Admission is $20 at the door (children under 12 get in free). Each vendor at Sushi Fest will charge various prices to purchase their items. The festival will also have a cash bar, because this is New Orleans and what event can't be made better without a beverage, particularly some sake or a Sapporo.
Sushi Fest is presented by East Jefferson General Hospital and a portion of the proceeds will be donated to the Japan Society of New Orleans and The Japan Club of New Orleans. For more information go here.