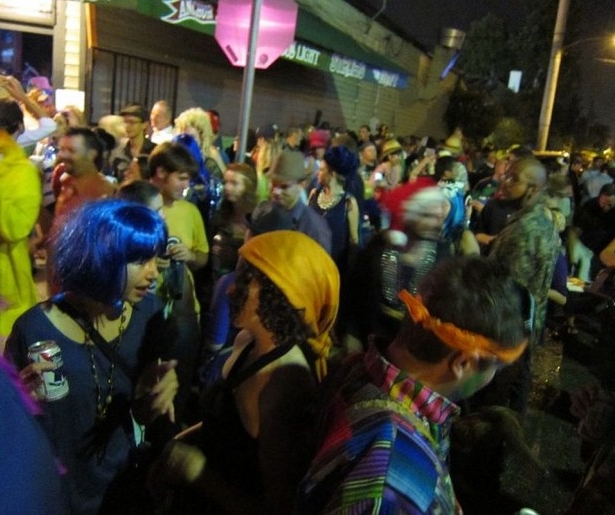 SHARE
Just because Mardi Gras is half a year away doesn't mean you have to wait six long months to experience a genuine New Orleans parade. On Saturday, August 23rd, the Krewe of O.A.K. is set to throw their annual Mid-Summer Mardi Gras Parade. It's an offbeat, innuendo filled event that's sure to attract a scantily clad crowd of marchers and spectators. The O.A.K. in the crew's name is an acronym for "Outrageous and Kinky," so prepare accordingly.
The parade, which is the only one left in town that marches through Carrollton section of New Orleans, begins with the Royal Balcony Ceremony at 7pm outside The Maple Leaf Bar the 8300 block of Oak Street. Marching begins promptly after that at 7:30pm. The parade rolls down Oak Street to Carrollton Avenue to Palmer Park, where it makes a celebratory stop, before returning the festivities right back to The Maple Leaf for a long night of celebration and debauchery.
Because Mid-Summer Mardi Gras takes place at the peak of New Orleans heat and humidity, it's become especially known for its minimalist costumes. This is another way of saying attendees like to show off some skin to stay cool.
To highlight that aspect of the festivities even further, this year's theme is "Rub It All Over Your Body," which serves as both an invitation for creativity from marchers, as well as a tribute to late Krewe of O.A.K. member Lee Madere. Apparently, Mr. Madere, when eating an especially enjoyable meal, used to exclaim, "This is so good I want to rub it all over my body" (credit to Uptown Messenger for this little tidbit).
The risqué, independent spirit of the Mid-Summer Mardi Gras Parade puts it in the same category as other smaller-scale parade favorites such as Krewe De Vieux and Chewbacchus. The event gives New Orleanians a chance to celebrate the end of summer (or at least the beginning of the end) in an environment that's far less tourist-heavy than Mardi Gras proper. Get more information about Mid-Summer Mardi Gras here.