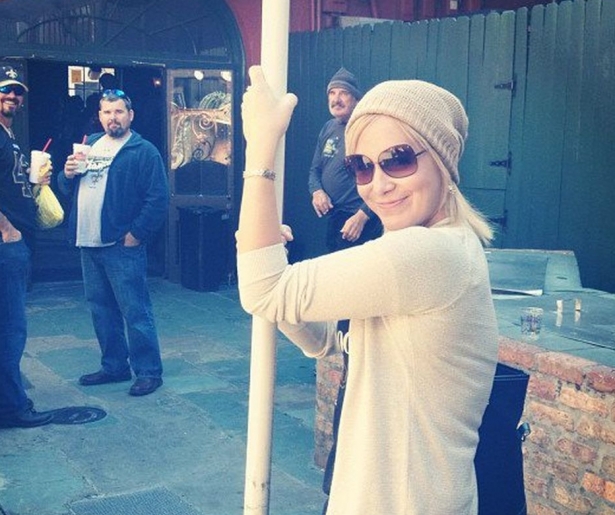 It's an amazing time of year again to be a local in South Louisiana. It's the time of festivals, crawfish boils, Abita Strawberry and gorgeous weather. And if you're newly single, it's also the dreaded season known as the "Ex Run-In."
We all know New Orleans. We love New Orleans. We also know that New Orleans can feel like the smallest town ever. It's like a permanent high school. You and the Ex know all the same people, like the same places and love going to all the festivals…festivals you used to go with and enjoy together.
The months following a New Orleans breakup are always awkward: Do you stay in the same neighborhood? Who gets to continue going to your favorite pizza place, bar, music club, festival stage spot? If those things are not important to you and were never discussed with your Ex, how does it feel when you both show up at the same restaurant/bar/fest/"Gold Mine":http://goldminesaloon.net/ (we all know there's only one Goldmine and nothing can hold a candle to its late night majesty)?
I was always an Uptown girl. I thought I'd always be an Uptown girl until I met the Ex. He was a Marigny resident, originally a West Banker turned French Quarter guy, and wanted to move back to the Vieux Carre. I'd always wanted to live in the Quarter and immediately loved everything about being a parking pass carrying resident. So when I left him, I left our gorgeous balcony on Dumaine and crashed at my best friend's in Mid-City.
I knew I didn't want to be in Mid-City , only because my office was located there at the time. Uptown is great for couples, college kids and people with dogs, and unfortunately, I was none of the above. Metairie was – are you kidding me? I contemplated the Marigny, but my habit of stumbling home from Bourbon in my latest Ralph Lauren dress seemed like a recipe for ridicule and/or disaster.
If you know the Quarter, you also know the best residential areas are located from St. Ann to Esplanade – seven whole blocks of single freedom! After a brief search, I found the cutest attic apartment right by Brangelina and Robocop. Where you ask? Oh you know, just four blocks from my former love nest. Trust me on this one, I broke up with him, I left and I wanted to move on.
Because of my penchant for partying and the probability for post-breakup sheningans, I felt it best if I lived in the Quarter, thereby inhibiting any reason to drink and drive.
But just like my alter ego, Marnie from Girls, there have been a few times where one of us got drunk, sad and/or frisky and we end up back at our former happy home. The "I just don't want to sleep alone" excuse slips out and everybody wins.
With most relationships, the year following a breakup is the hardest. With every milestone or event, you reflect on where you were the previous year and how it involves your former flame.
I met the Ex at the Crescent City Classic post-race party. For the last three years, we trained, ran and always reminisced about that fateful day. Before I left him, my friends hypothesized that he would propose to me at the post-race party – a romantic scenario for our allegedly perfect union. As you can conclude, that didn't happen. We talked but didn't plan on seeing each other before at the CCC or at the post-race. So while I was three fisting with two new girlfriends from Baton Rouge, I saw his best friend in the beer line. Thankfully, this friend had always been cool and accepting of me, even in our dramatic, post-breakup life. He invited me to three-fist with their group.
Although the Ex and I had seen each other in our private time, our mutual friends were never present. For a few minutes, I made small talk with the krewe and avoided him, quickly realizing that everyone noticed. Eventually we made small talk: awkward yes, horrible no. I was relived and happy, I thought we had a chance to overcome the bad breakup syndrome, maybe even be friends. Was this the way I expected my CCC experience to turn out? No. I could have never imagined a scenario where we would even be broken up at this point in my life, but our run-in wasn't as upsetting or dramatic as I had imagined.
It's never easy ending a relationship, and living in a socially connected city like NOLA doesn't make it any less complicated. I don't even want to discuss the texts I've received when one of my friends sees my Ex out in the City, especially if he's on a date. It sucks, but I've realized that
I can't limit life by worrying about our future run-ins. This is New Orleans: the voodoo is going to make it happen, child. Whether my Ex and I exchange casual text messages or never speak again, I've know that I can't and won't alter my social calendar for him or anyone.
The funny breakup blogs say you must find acceptance in being alone before you can establish a new romantic relationship, and I feel like I have. Based on my brief stint in online dating, I know there are plenty of bros in NOLA who are hoping to meet a special someone. Although my Ex and
I connected through our love of outdoor drinking, great music and festing, I've already meet several great candidates for my plus one to upcoming NOLA summer events. I'll likely never replace my Ex, but I'm having fun navigating the single girl channels of the only thing or place that I'll ever let lock me down.
That Ms. Nola, she stole my heart years ago.