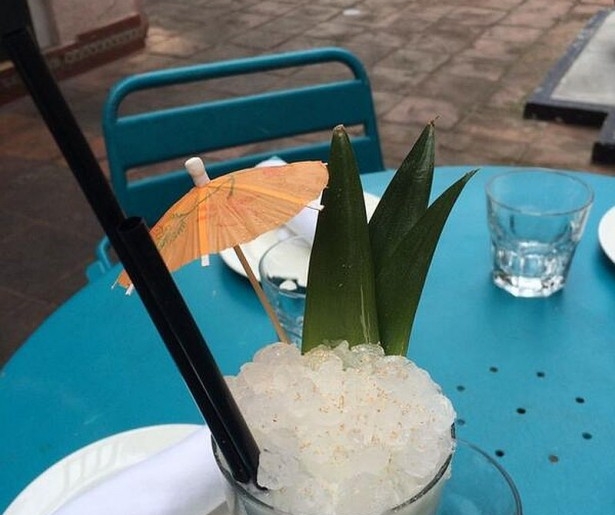 SHARE
August is one of my favorite times to hang out in the French Quarter. I know that sounds funny, because August is generally hotter than Hell's own sauna, but said heat does cut down on the tourists, and besides, there's something very quintessentially New Orleans about the city when it gets super sweaty. 'Sweat' is a byproduct of sultry, and August in New Orleans is very sultry.
When it's 90 degrees and dark outside under the moonlight, and you're in a historic district like the Quarter, it's hard not to feel a little like a character in a historical novel set in a world of Creoles and colonialism, and to this end, I wanted a bar that suggested both of those elements without being offensive. And lo: my friends and I stumbled into Cane & Table.
This used to be Pravda, a sort of Soviet theme park dive, the sort of establishment shtick that never rightly survived a decade or so of a post Iron Curtain world. Cane & Table is a different breed of bar beast. There were pretty people here, and they likely use words like "creative economy" and "cultural capital" in their conversations, and they like their drinks muddled with things that are artisanal and locally sourced.
Lest that last paragraph come off as a sneer, I enjoy all of those things and have used all of those terms un-ironically. Yes, there are $11 cocktails at Cane & Table. Molly's is next door. There are two other dive bars in spitting distance, great neighborhood bars in a three block radius, and all the cheese of Bourbon Street within a 15 minute walk. Embrace a little variety; one hipster-ish high end cocktail bar isn't the end of the French Quarter, but tell people about a double digit priced drink in this town and you'd think everything downriver of Canal was Manhattan South (the irony being many hardcore nativists never seem to have an issue with Cure, which I also love, but is indisputably the forerunner of the current generation of pricey New Orleans cocktail establishments).
I mean, I don't like parting with $11 for a drink. Eleven bucks at The John pretty much sets me up for a good evening. But I appreciate a well made drink, and holy God are the drinks at Cane & Table well made.
This place has a seasonal theme – actually, before I go on, let it be noted that Cane & Table is a restaurant and with a full Creole-Caribbean-themed menu. But on this trip, I was only it for the drinks. Resume review! – anyways, this place has a seasonal theme, and it being sweaty summer, said theme revolved around tropical punch style libations. I had an Eastern Cottonwood, which looked and tasted like the alcoholic distillation of a a nice night on a Caribbean island. This place's whole tagline is "Proto Tiki cocktails," which is so 21st century precious it admittedly makes me want to punch a wall, but the drink went beyond the realm of gimmick into the galaxy of very refreshing, yet satisfyingly strong.
In that vein, the whole evening felt drenched in rum and punch, a sentiment that was magnified when we wandered into the back courtyard. If I were ever a privateer lord a la Assassin's Creed 4 or Pirates of the Caribbean, this s what I would want my compound to look like: peeling plaster, faded wood, terracotta tiles and the fringed shade of palm fronds. The outdoors area of Cane & Table may be my Platonic ideal of a Quarter courtyard. It didn't need August heat to crank up the romance; in the dead of winter, this would be a moody, magnificent spot for a warm toddy. But the swelter did make me want to don a linen suit, and sip my rum a little more imperiously, and for that fantasy indulgence, Cane & Table won my heart.
Cane & Table
5-11pm Mon-Thurs, til Midnight Fri & Sat
Noon-3pm Sat & Sun
1113 Decatur St
Image courtesy of Twitter (@CaneAndTable).