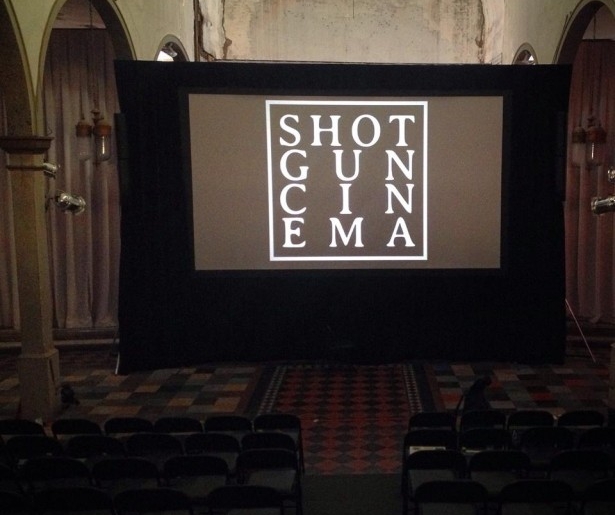 SHARE
For a town regularly identified as one of the top filmmaking communities in the country – we've all seen the This is LA, not L.A. bumper stickers – New Orleans doesn't have many platforms for film exhibition and screenings, especially when it comes to independent cinema. Plenty of small films screen at Prytania, Zeitgeist, and especially the up and coming Indywood Theater, but for an ever-expanding cinematic community, options for seeing art-house film within New Orleans city limits are slimmer than one might expect.
Angela Catalano, a Midwest native and former Programming Manager for Milwaukee Film, witnessed the state of film exhibition in New Orleans on a trip to the city in 2013, and saw an opportunity. Like so many others, Ms. Catalano fell in love with New Orleans during her first trip to town, and thought about the feasibility of opening up a screening space for art-house films.
She, along with technical director and expert film projectionist Travis Bird, co-founded the nonprofit Shotgun Cinema at the end of 2013. Together, they've worked throughout 2014 to educate and expand the New Orleans film community by exhibiting new and repertory motion pictures with a high standard of film and digital projection.
Ms. Catalano and Mr. Bird emphasize "the high standard of film and digital projection" by using top-rate 2K HD projection for digital films, and film projectors for movies shot on celluloid. They both want audiences to experience cinema not only in a theater with a collective audience, but also in each film's intended format. "Our goal is to provide an immersive cinematic experience," said Ms. Catalano.
Though Shotgun Cinema is in the midst of fundraising so they can open their own dedicated, permanent theater, they've still made an impact on the local film community through their monthly screenings of old and new indy films at Marigny Opera House. "We thought it was long-shot when we first asked the management there because they hadn't ever really screened films before, but they said 'yes,'" said Catalano. "It's such a raw, beautiful space, and they've been so accommodating."
The historic theater has proved to be a great temporary home for Shotgun Cinema's monthly showings. These past few months they've screened films such as 1959's French & Brazilian produced Black Orpheus, and the 2013 British black comedy The Double. "We try to keep the programming diverse," said Catalano. "We want to showcase foreign films, women filmmakers—any films that are under-served or overlooked by mainstream audiences."
Ms. Catalano speaks excitedly about the programming possibilities for the rest of the year, especially October, where she and Mr. Bird plan to screen a horror movie to coincide with the Halloween season. "We try to connect with the local film community through social media and surveys so we can offer films that people really want to see."
On Saturday, September 6th, Shotgun Cinema is hosting a special screening at Studio 3 in mid-city (3610 Toulouse St.) of the cult-classic Talking Heads concert film Stop Making Sense. The event promises to be a unique cinematic experience, with costumes, special drinks, and plenty of dancing along. "It's a movie Travis and I both love. I used to watch it every weekend," said Catalano. "It's the kind of film you can't just sit and watch in a dark theater."
For their regular monthly showing at Marigny Opera House on Wednesday, September 10th, Shotgun Cinema is screening Ida, the critically acclaimed 2013 Polish film. It's a slow, contemplative movie, with stunning black and white photography—pretty much the exact opposite of Stop Making Sense, which gives you an idea of how wide-ranging Shotgun Cinema's programming can be.
Catalano insists it's good to be mobile, but Shotgun Cinema's ultimate goal is to open its own dedicated movie theater. A permanent home would allow for more frequent showtimes, having test screenings, and housing bigger equipment, like a 35mm changeover projector, or a perhaps even a 70mm projector, which would be the only one of its kind in New Orleans.
Other programming for the rest of the year is still being finalized, but check out the website to stay up to date. There's also information on the site about renting projection equipment, how to donate and support Shotgun Cinema, and a terrific blog that serves as both a newsletter and a forum to express opinions about important issues in the film community. Also, check out their Facebook page.
Upcoming Shotgun Cinema Screenings:
-Saturday, September 6th 7pm, _Stop Making Sense_ at Studio 3 (3610 Toulouse St). Tickets are $10. -Wednesday, September 10th 7pm, Ida at The Marigny Opera House (725 St. Ferdinand). Tickets are $7.
Image courtesy of Facebook