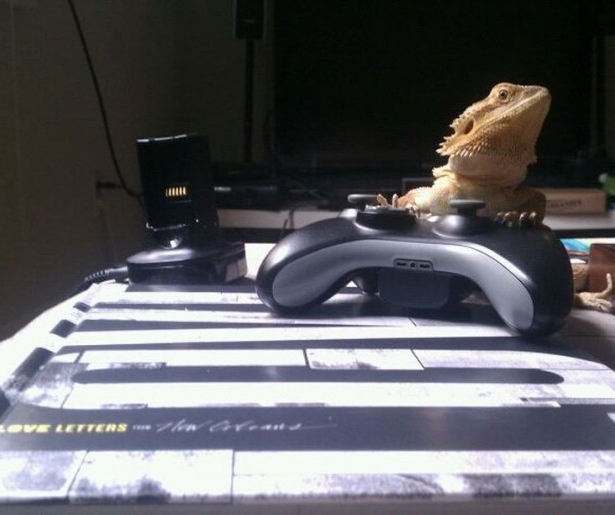 SHARE
I ordered a pizza last night. The delivery kid (and he was seriously a kid) showed up at my door around 9pm with one large pepperoni, one small mushroom, and a look of utter horror.
"The termites…" he stuttered.
"What about them?" I asked.
"Man, they're everywhere," he said. "I drove through, like, clouds to get here. They pasted up my windshield." My fiancée had told me to turn on the front door light for the delivery guy, and when I peeked my head out, I could see what he was talking about; a veritable star cluster of termites was buzzing around our stoop, like a cheap special effect from a horror movie that telegraphs the arrival of He Who Must Not Be Named.
At the time, I did not realize an enormous termite swarm had descended upon the greater New Orleans metropolitan area, resembling, as a friend rather poetically put it (considering we're talking about home destroying arthropods) "Bayou snow" (another friend put on facebook: "sometimes you move away from a place for 3 years then you move back having forgotten about the yearly biblical termite plague").
I gave the kid some tip money as we both stared in horrified fascination at a veritable weather front of termites. And then a couple of the insects, of course, flew into my house.
Before this story goes on, herpetology aside: I have a pet lizard. A bearded dragon. I put a picture of him up above just so you can see how cute he is. His name is 'Eggy' (well, really it's Aegon, but I'm trying to reduce the Game of Thrones references in my life, without much success). I call the above picture 'Eggsbox 360.'
Anyways, Eggy eats bugs. And Eggy has been sick these past few days. I don't want to bore you with all the gross details, but here are all the gross details: he hasn't been pooping, and this is actually a serious health issue with bearded dragons. It's called impaction, and it's a leading cause of lizard death. So I've been freaking out the past couple of days, with my priority list looking something like: plan wedding, meet deadlines, make my lizard shit.
(And if you were wondering, of course there is a how-to-make-your-lizard-shit video on Youtube. Because duh).
Anyways, we had a breakthrough (pun absolutely intended) yesterday when, after days of massaging Eggy's tummy and giving him warm baths and lacing his food with vegetable oil (makes everything come out, according to the pet forums), I checked by Eggy's log and lo and behold, there was a sickening pile of green and white reptile crap. And on the other side of the tank: there sat Eggy, looking for all the world – and if a lizard can be said to look like anything, I would think this, plus 'insane', 'brain dead' and 'asleep' top the list – smug.
(Smug. Not Smaug, but if you saw 'bearded dragon' and 'smug' and that's where your head went, I nod to you from across the nerdy shores of geekdom, and urge you to get out more).
And I saw that lizard scat and I was happy. I was happy to see that poo, a poo I had worked for, dammit, and then I thought about all that work, and how this felt like perhaps my biggest accomplishment all week, and then I thought about the balance remaining on my student loans, and I cried in a corner.
But afterwards, I was still worried. Because maybe, despite what Gerald Ford would have you believe, our long national nightmare was not over. Maybe Eggy was still sick. For all his smugness, he was still a little lethargic. Still a little sluggish. Still, perhaps, not out of the weeds.
And that brings me to last night and the termite-apocalypse. If lizard sickness can be measured by sluggishness, their health can by and large be determined by activity and appetite. Now Eggy lives in my front room, and I have to maintain a bright lighting rig for him that emulates the sun-baked Outback of his native Australia (aside: the arguments bearded dragon owners have about the proper lighting to provide for their lizards is tragicomic. Great reams of arguments take up terabytes of web real estate, consisting of wordy debates that would make Socrates weep and Tolstoy jealous – I can't tell if this gives me hope or unending pessimism for the human race).
Said bright lights, of course, immediately attracted the flying termites. And when they flew into Eggy's habitat (I like to keep his tank doors open because sometimes he explores the house, and also, now, because the following happened), I knew, beyond a shadow of a doubt, that Eggy was OK.
Because he registered a new emotion among lizard kind: excitement (a subset of the above 'insane'). My Eggy went to town, folks, lapsing into a lizard predator stance that was so lithe, so dead set on termite annihilation, that somewhere, off in some shuttered museum, a fossilized T-Rex grinned a little larger with reptilian pride at his miniscule descendant. If bearded dragon health equals activity, by God, Eggy was back to full power, like Link with full hearts (hell with it. I'm all about nerd references today). He was snapping bugs out of midair, or at least that's what it looked like, and after maybe half a minute of furiously scurrying around his tank popping termites like movie popcorn, Eggy took a break. Gave me a look.
And the look my dragon gave me was straight, satisfied, sm(a)ug.
(Brett Will Taylor also provides a hilarious story about last night's plague o' termites over at NolaVie)