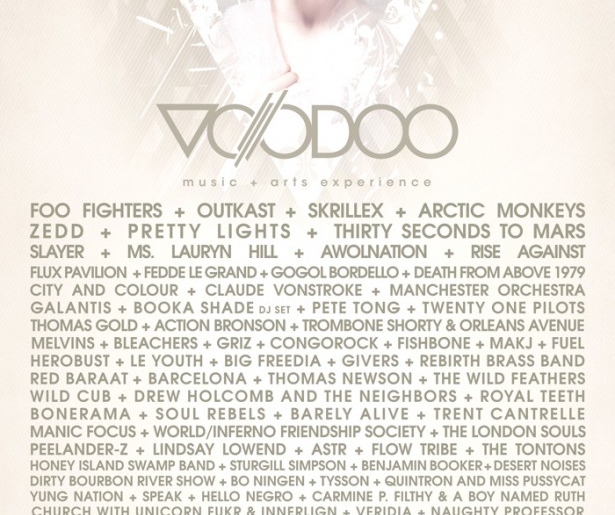 SHARE
The official Voodoo lineup has been announced, and it's the usual conglomeration of big ticket headliners, indie outfits you can snark to your friends about assuming they've never heard of them, and other indie outfits you've never heard of that will inevitably make you the subject of snark.
The headliners take in the last few waves of popular music: Foo Fighters rocking in from the alternative to post-punk phase, Outkast skipping along with their wise jester hip-hop routine, Skrillex and his mad dub step drops. Arctic Monkeys will speak to that unfortunate phase after a study abroad when you name dropped a lot of British rock bands. I'm probably most excited for Gogol Bordello, because there is no live show like a gypsy-punk live show, and if you don't believe me, you should go YouTube some Zydepunks videos.
Local talent includes Big Freedia, Trombone Shorty, Soul Rebels, Quintron and Miss Pussycat, Rebirth, Flow Tribe and Bonerama. Pretty Lights isn't from New Orleans, but they recorded part of the 2013 Grammy-nominated A Color Map of the Sun in town with local artists, so I'm giving them a shout out too.
What else to expect? Lots of art installations and the usual festival black light-friendly arts and crafts and accouterments. Read our take on Voodoo and its new four stage set up from last year, and get those tickets – sorry, credentials – soon. Check out the complete lineup here.
Image courtesy of Voodoo Experience.