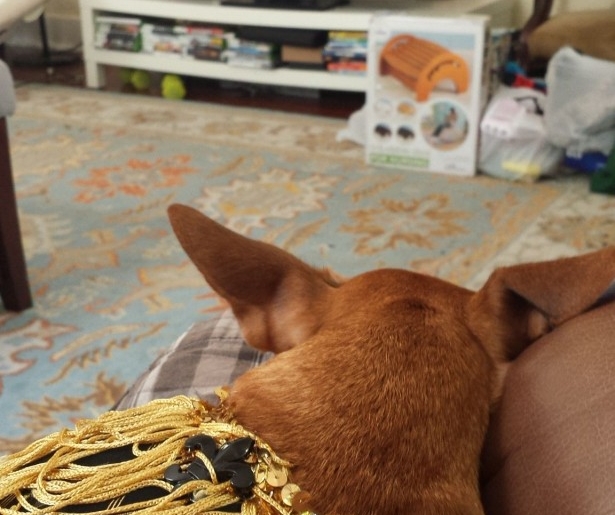 SHARE
My wife's family is from Minnesota. On Friday, we got a gift in the mail: a Vikings onesie, courtesy of Aunt Diane in Minneapolis, for our three week old daughter. We dressed our little girl in the purple and gold and took a photo for Facebook. I almost, but didn't, throw this comment underneath: 'I hope child protective services never sees this picture, because it must be abuse to force your child to endure the heartache of rooting for the Vikings."
Ah. How fully and completely did I eat those words on Sunday.
In general, I have determined that I will allow my girl to choose the team she roots for once she is of age to make a decision for herself that hopefully isn't based off the color of a uniform (although let's be fair. Less logical criteria often applies when it comes to picking a team). With that said, of course I'd be thrilled if she wanted to support the Saints of her own volition.
With that said, if anyone ever toyed with my daughter's feelings the way the Saints toy with my own, I would kick their ass. And yet. Sunday's game was basically the quintessential example of Saints emotional manipulation, and I find myself doing the fan equivalent of texting the team at three in the morning asking if I can come home, I'll sleep on the couch, it's OK, can we just be together like in 2010 again?
What can I say? I, and the rest of the state, am basically a sucker for this sort of treatment. When it's bad, it's devastating, but when it's good, it's like the angels themselves smile at you and carees your weary brow with beats of their black and gold wings. Or something.
To illustrate, rather than picking through every minute of Sunday's heart breaker, I'm instead relaying some texts sent between myself and a friend as we watched the game on our respective TVs, and incidentally lost our respective minds.
First: I'll admit, I didn't even start watching the game until late in the second quarter. I have a three week old, and her diaper dirtying doesn't stop for Drew Brees. So I spent most of the first half in the nursery, changing, soothing and bouncing, because baby sleep, according to all the books and websites, requires a calm atmosphere, and daddy screaming f-bombs at the TV does not a serene space make.
That said, the first half of the game was the good one. That was when we were up 13-0. That was prior to when our safeties and secondaries started channeling the talent of a JV middle school squad.
You will note from the above picture that while my daughter gets to choose her NFL affiliation, my dog does not. Gizmo is a loyal Who Dat for life. Although she clearly wasn't impressed with their performance against the Falcons, as you can see by her napping demeanor. Anyways, the text messages:
Me (late 2nd quarter, after Falcons touchdown) For [bleep's] sake.
Him [Bleep]ing ridiculous
Him Whatever, we can spot em a few. It will hurt more when we crush them later. [ed note: Somewhere in the sky, the football Gods read this and chuckled. 'HAHA WHAT FOOLS THESE SAINTS SUPPORTERS BE. TRICKS AND TRAIPSES ARE MY MIDDLE NAME, LET ROBIN GOODFELLOW OVERTIME THIS GAME]
Me I know, but that last third and long was almost the Platonic ideal of Saints squandered opportunity. I was just hoping we'd get, I dunno, into the fourth quarter before that happens.
Him Agreed. Seen that rerun so many times. Hopefully it's out of their system now. [ed note: 'HAHAHAHAHA 'SUP ON MISERY JUICE, MORTAL']
Him The concern now is if they'll go and sulk for two quarters because they blew that last series.
Me (Following a fast response Saints touchdown) And then that. It's like the girl who just wrecked your car, and is now offering a month of breakfast in bed. I swear.
Him Hahaha. (a few minutes later, the Falcons get in field goal range). We need to slow this down. I like my breakfast without getting eggs on me.
Me [Bleep] you, you crazy, hot maniac
[Falcons fieldgoal to close half]
Him [Poop emoji]
During the Third Quarter, my child woke up and I had to soothe her. Then I grabbed a soda out of the fridge. By the time I sat back down, the Falcons had magically scored.
Me Jesus. I literally got up to get a coke.
Him [multiple poop emojis]
Him Our secondaries are looking familiar, and in a bad way. Breakfast in bed is over, and she's back behind the wheel.
Me And she has the credit card…
Him Uh huh. And she's calling all her ex boyfriends.
Me YOU DON'T LOOK FAT IN THAT DRESS. JUST COME HOME!
(Falcons pull ahead)
Me Sigh
Him This is just unacceptable. We are a better team they are. [ed note: See: every game the Saints play against the Rams].
(Saints pull ahead)
Him The car is a smoldering wreck, the credit card is worn out and glazed with booze, but she's back.
(Falcons tie it. Overtime)
Him I could use a Pepto right now.
(Colston fumbles within spitting distance of a touchdown. Falcons go on to get a field goal and win)
Him [Flips tables over]
And there you have it. The emotional roller coaster of a Saints game. If anything else, they're never boring. 'Never boring' is a crappy rationale for staying with a person who screws with your emotions. But when it's a football team, well…
Who Dat. To the bitter, emoji and diaper poop-stained end.