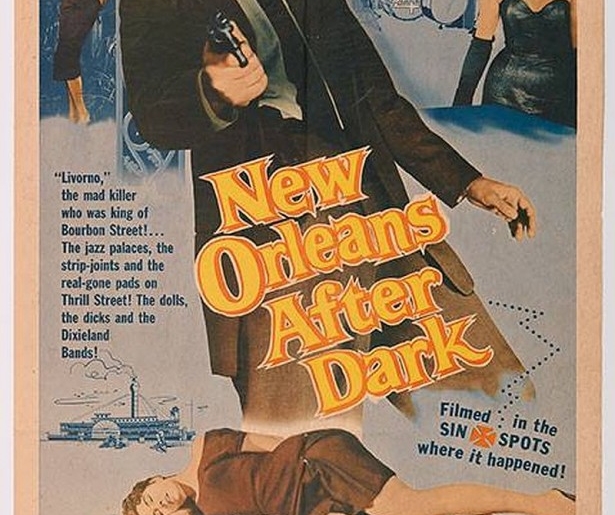 SHARE
One of the most prized finds at From Cameo to Close-Up: Louisiana in Film is a colorized poster promoting 1918's Tarzan of the Apes. The profuse rainforest visible in the background looks imported from the Amazon, but it's actually a glimpse of Morgan City, Louisiana.
"It's very rare to get [these] posters from the silent era, because the posters would travel with the production, so by the time the production was over, these things were pretty much in tatters," exhibit co-curator Mark Cave says.
Collated by The Historic New Orleans Collection (THNOC), the exhibition currently hangs in the Williams Research Center at 410 Chartres St. After receiving two large donations of work from the estate of Don Lee Keith and the New Orleans and Louisiana Film Collection, THNOC broadened a pre-existing focus on Tennessee Williams' work to include more general archival materials related to film. Cave says their best pieces come from a network of private collectors of movie memorabilia, many of whom THNOC discovered through ties with prominent collectors on the West Bank.
Visitors to this exhibition will pass through the decades of Louisiana and New Orleans in the movies, beginning with the silent era and progressing through the contemporary period. In its halls, Tom Cruise glares out from a poster for Interview with a Vampire, while a photograph depicts the original sound set for A Streetcar Named Desire. The show also includes times New Orleans has "stood in" for a more expensive filming location, like Paris, and curiosities like a Charlton Heston film that features real members of the New Orleans Saints.
"Our criteria was pretty broad," Cave says. "A lot of the films have helped shape the perception of [this] place and developed the tourist industry."
Cave hopes these materials will connect present-day "Hollywood South" to the history of cinema. Though modern tax incentives drive much of today's industry work, he says New Orleans' cooperative climate and its atmosphere have long made it a popular location for directors.
Looking over the collection, one can see different iterations of the city fluctuating with the times. In film, New Orleans can be dark and sultry (the noir-influenced Cincinnati Kid), comical (an ad for an Abbott and Costello film), or thrilling. A classic poster for Easy Rider, with black slicked-back mod typography on a goldenrod field, is a highlight.
Though the exhibit isn't large, cinephiles will relish the details of the ephemera found throughout. A gruff letter from William Faulkner, who had turned to screenwriting to pay the bills, laments the lack of beer back home in Oxford. Visitors can also view a video collection of rare trailers for movies related to Louisiana, including long-lost B-movie classics like The Alligator Man.
The exhibit will remain on display through November, closing each month with a free Saturday screening of a classic film. Next on the docket is Blaze, starring Paul Newman, on at 10:30 a.m. on September 27. A Q&A session moderated by senior curator John Magill will follow.
"What we're hoping happens is that people know we're collecting about film, that people will start bringing us things that document their role in the film industry," Cave says.
Image courtesy of The Historic New Orleans Collection.