POSTED Tue. Sep 9, 2014
Our Insider Guide to New Orleans Fried Chicken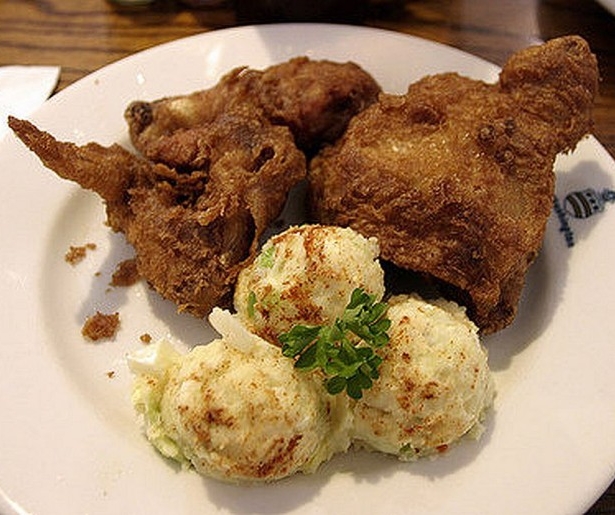 SHARE
I've been craving fried chicken lately, because…well, because I'm a human being with an appetite, and fried chicken is amazing. Also, this is clearly a city that knows how to cook a bird (unless that bird was the Falcons on Sunday. Ouch). Anyways, to this end: my six favorite spots for fried chicken in the great city of New Orleans, sans Popeye's – sorry, I love Popeye's, but the point of this article is to introduce you to a place you may have never heard of. All images courtesy of Facebook.
1 Willie Mae's
I'm opening with the obvious choice here, but there's a reason it's obvious. Although I have to cop to not being immediately blown away by this New Orleans institution. When I first tried Willie Mae's, I was disappointed in myself for not picking up on what the big deal was. The batter seemed altogether too smooth and tempura-esque, whereas I tend to like crumbly/crunchy fried chicken coating.
Since then, I've come around. Reason one is the seasoning at Willie Mae's, which is a heartbeat from perfection, carrying superior balance of peppery spice and salty depth. I also picked up on the beautifully balanced amount of oily squirt the batter retains, as well as said batter's ability to provide a proper amount of crunch when it twists at the corners of a chicken piece. In short: the legends that circulate around Willie Mae's are justified. Also: the white beans are astounding.
2 McHardy's
If you just need takeout chicken in a box, you can't go wrong with McHardy's. There's not a lot to say here: this is simply fried chicken done very well, and it's great value for money. If I've only got a five on me, I know I can get fed well (and I'm a big guy) at 1458 N Broad.
3 Tan Dinh
This one's a bit of a cheat, because Tan Dinh is a West Bank Vietnamese restaurant, as opposed to a dedicated chicken spot. In addition, Tan Dinh doesn't have an actual fried chicken dish; the actual words 'fried chicken' won't found on the menu. Nonetheless, the garlic butter chicken wings here are the best tasting morsel of bird in the city. They're just wings as opposed to actual pieces of fried chicken, but these little mouthfuls pack as much flavor as a Popeye's bucket. Were I to die tomorrow, I'd put them on my last meal bucket list. Incidentally, the same wings are open available at Tan Dinh's East Bank satellite, Ba Chi Canteen. Ed note: the above image is of the spicy lemongrass wings, which are also brilliant. Fair warning: they pack a mean punch. I have a good tolerance for fire, and they burn me every time (but the pain is oh so good).
4 Dooky Chase
The buffet chicken at Dooky Chase is some kind of special. It represents a median balance between the extremes of culinary experience all of these other chickens bring to the figurative and literal table. It's between smooth and crunchy; salty and spicy; flavorful and comfortably understated.
5 Li'l Dizzy's
The character of Toni on Treme always swore by Li'l Dizzy's fried chicken, which for my money is a mark of the show's accuracy. I mentioned before that I like a crunchy skin on my chicken. That's Dizzy's to a T: crispy, crunchy chicken with a lovely firm flesh waiting underneath. It helps that this is a friendly as all get out down home soul food diner.
6 Fiorella's
I think tourists are often surprised that one of the best spots for fried chicken in New Orleans is an old Italian hole in the wall. But there you have it: Fiorella's and its wonderful golden fried goodness, the most flavorful regular chicken in the city (Tan Dinh's garlic butter wings pack more levels of flavor, but I don't count them as proper fried chicken due to their wing-sized proportions). Note that flavorful doesn't necessarily mean best. Fiorella's bird is very salty, which is right in my wheelhouse, but with that said, I'm a big flavor kind of guy. If you value more subtlety, Willie Mae's or Dooky Chase may be more up your alley.