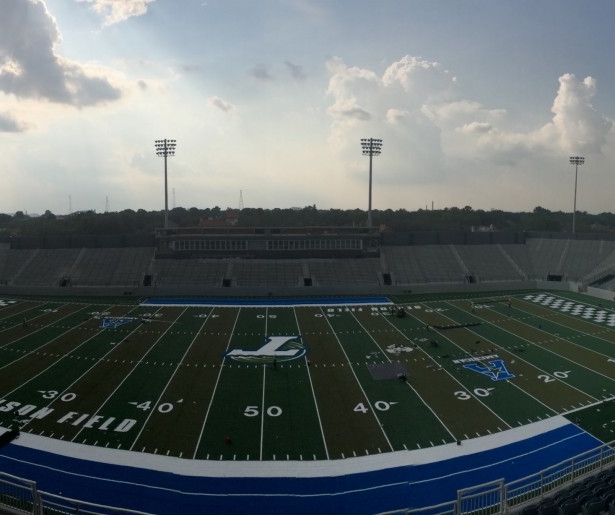 SHARE
As an alumnus of Tulane University twice over, I've had mixed feelings about Yulman Stadium since its arrival was announced a few years ago. The halcyon days of my undergraduate experience spanned Tulane's last four pre-Katrina years. Then came 2005, which was a momentous one for me (among others). I graduated college, started law school, and had my favorite city wrecked by a giant hurricane. In the wake of all that, I was initially among those who had concerns over a stadium with a $70 million price tag.
But man, my first game at Yulman on Saturday was admittedly fun as hell.
My Tulane experience did not involve a lot of partying on campus. When you attend college in a city with a lax drinking age where there is one bar for every 200 humans, the lack of football tailgating is not a noticeable loss. We did have a football team, but the off-campus games were relatively inaccessible. For a freshman with no car, the schlep downtown to sit in a 90% empty Super Dome, a bizarre and depressing experience in itself, was not appealing.
On the other hand, the scene on campus Saturday afternoon was electric. The quads were packed with tailgating canopies and everyone was in high spirits. There was local music, food, drinks, and lots of sweaty college kids in face paint getting rowdy. Overall, there was a great energy that lasted through most of the game – only somewhat diminished by Tulane falling behind Georgia Tech and the brutal, unyielding heat.
I like the old school, college stadium-ish aesthetic of Yulman Stadium. Its 30,000 person capacity is the right size for Tulane, and its location on campus makes its integration feel natural and not superimposed. The concession infrastructure felt insufficient for a sold out game (i.e. barely manageable beer lines), but that seems like a problem that is easily addressed. Access to cold beer was important on Saturday, as early September in New Orleans is sweltering, and the shallow elliptical bowl of Yulman provides very little shade unless you are lucky enough to have your back to the press box. My tickets were all the way up against the press box, and it was considerably hot even in the shade.
Despite the heat, concession issues and perceived financial priorities, I'm now pro-Yulman. For one thing, it's already built, there are football games being hosted there, and there is no point in crying over spilt milk. But I was also strongly affected by the positive vibes permeating the campus.
For nine years, I've seen Tulane students rallying together to help the collegiate and municipal communities ravaged by Katrina. But the Yulman revelry was completely disassociated from the narrative of the storm. To a guy with seven years of Tulane experience, bifurcated by the worst American natural disaster of the 21st century, the grand opening of Yulman felt like the beginning of the post-Katrina era.
Image courtesy of Facebook.