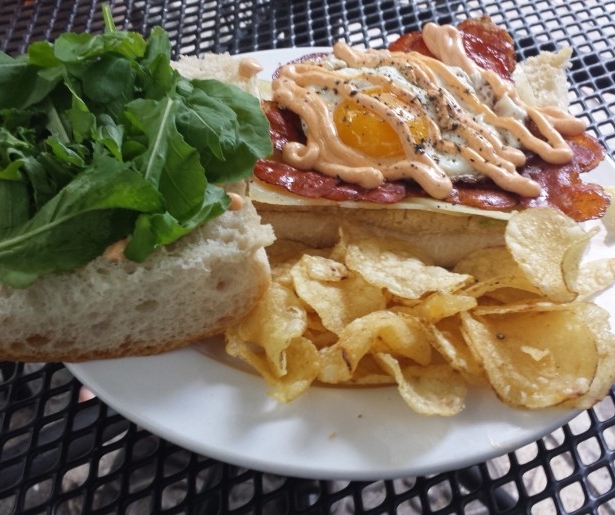 SHARE
In this week's edition of Yeah You Right – wherein I document supremely awesome New Orleans moments – witness: the Lomo Bocadillo at St James Cheese Company. That's lomo (tenderloin) with manchego cheese, pimenton aioli, arugula and runny fried egg, served on ciabatta.
I've written before on how St James is one of the best non-po' boy sandwich shops in the city (this is a valid designation of food genre, by the way. A po'boy and a sandwich are two different things and were I to lump them together, we'd never have a definitive sandwich ranking in this city that didn't ultimately provoke chaos in the streets). Well, the lomo bocadillo may be the pinnacle of what this spot can do with ingredients lapped between two pieces of bread.
The cheese is tangy; the aioli is pleasantly hot; the arugla has a bracing bitterness; the lomo is smoky and divine and a runny egg just makes everything better. If I'm reading a book and it sucks, I just put an over medium egg on that sucker. Boom. Masterpiece.
St James is also of course, one of the finest cheese shops in the city, and after I ate my sandwich with the sort of unfiltered passion that would have raised an eyebrow at a Roman banquet, the staff spent a good ten minutes helping me – let it be said, a total cheese dimwit – select a perfect hunk of fermented milk for my home (the Brabant Gouda, if you're wondering).
So yeah. Wins all around for St James. If you're ever around Uptown, now you know where to go for a sandwich and some cheese, and really, besides wine, whiskey and music (also served in great abundance elsewhere in New Orleans), what more do you need?