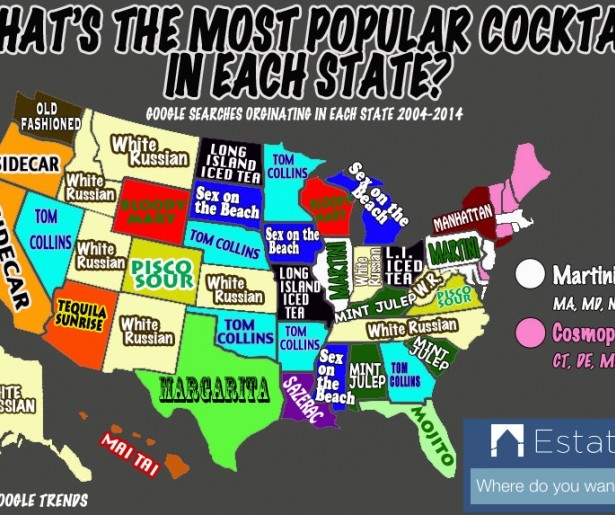 SHARE
While you should generally take everything you read on the internet with a grain of salt (barring anything you read on this site, natch), sometimes the web yields up a gem, and one of those instances appears above.
Estately, the real estate blog, put together a list of the most popular cocktails by state, which is to say the cocktail with the most Google searches from 2004-14. This admittedly does not necessarily translate into the actual drink ordered most often at a bar, but after looking at the above map, I hope it means just that for the Pelican State.
Why? Because Louisiana is the only state in the Union repping the mighty SAZERAC. Yeah you right times a thousand. In a sea of crappy Cosmopolitans, White Russians and Tom Collins, the Sazerac – a cocktail lover's cocktail – stands like a testament to Louisiana spirits savvy.
By my reckoning, only two other states on this map boast their own native-created cocktails: New York with the Manhattan and Florida with the Mojito (which is technically from Cuba). I also have to give a nod of respect to Washington for flaunting the Old Fashioned.
But a Sazerac is just as good as all of the above (frankly, it's better), and it is our creation, Louisiana. So here's to this map. I may raise an absinthe-coated glass of rye and bitters to this accomplishment.