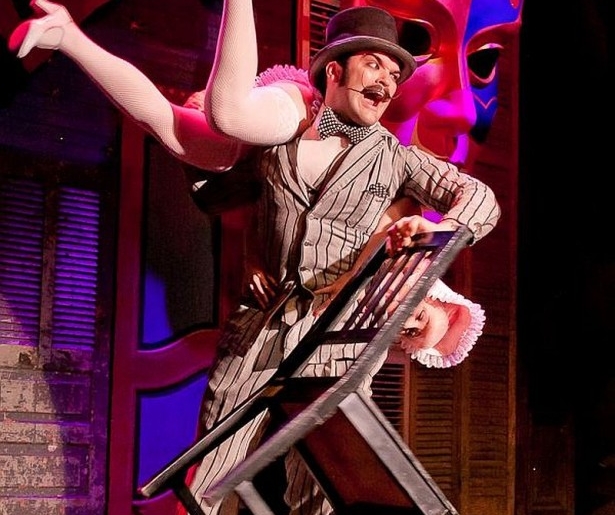 SHARE
From September 18th to 21st, New Orleans Burlesque Festival returns for its sixth year, bringing the best American and international burlesque performers to the French Quarter for one raucous weekend of song and dance, seductive stripteases, and plenty of innuendo. The festival, highly regarded by both performers and enthusiasts, features an array of burlesque shows, parties, showcases, and workshops. Events take place at Harrah's, House of Blues, and the Sheraton on Canal Street.
The French Quarter has long thrived as a go-to destination for risque and imaginative burlesque. In the 40's and 50's, Bourbon Street was the epicenter, famous for its nightclubs packed with exotic dancers, comic emcees, contortionists, and countless other performers all determined to entertain a lively influx of tourists and servicemen. Stripteasers often attempted to one-up each other by performing acts with elaborate themes characterized by intricately layered costumes, sultry mood lighting, and live, often original music.
Such rich history is not lost on New Orleans Burlesque Festival founder and producer Rick Delaup. An avid researcher of the legacy of burlesque in the crescent city, Mr. Delaup has interviewed dozens of former New Orleans dancers, comics, and musicians from the mid-20th century golden age. He's also spoken on the subject of burlesque at festivals around the country, and served as a judge for several competitions. But the annual NOLA Burlesque Festival, he said, is his busiest undertaking of every calendar year.
"It's an opportunity for people to see the best of burlesque from all over the world," said Delaup. "It's also a whole lot of work."
As the producer for all five of the weekend's shows, Mr. Delaup is in charge of bringing performers and emcees together to create five line-ups, each with its own distinct theme and vibe. "It's all about finding the right fit," Delaup said.
The main event of the festival, The Queen of Burlesque, occurs Saturday night, Sept. 20th, at Harrah's (7:30pm). Kitten on the Keys, a longtime songwriter and burlesque musician from San Francisco, serves as the event's Mistress of Ceremonies, and contestants range from popular local performers such as Elle Dorado and Athena, to Miss Donna Hood from Los Angeles and Lydia Decarllo from Vancouver. Last year's winner, Medianoche, is also set for a special performance. The event is backed by a live jazz band, giving it an air of class befit for the glory days of traditional striptease.
Though the Queen of Burlesque is the weekend's most popular event – tickets sell out every year, so get them early – other shows include a wide variety of performers, from Australia's Agatha Frisky performing in It's Burlesque on the festival's opening night (9pm at The Parish at House of Blues, to Pepper Potemkin from Stockholm, Sweden showcasing her eclectic routine at Bad Girls of Burlesque late Friday night (11pm at House of Blues). Other emcees include Cora Vette, Naughty Pierre, and Dr. Sick.
If nothing else, Delaup knows how to book performers with some inventive and chuckle-inducing stage names.
Beyond the shows, the festival also offers specific workshops led by professional performers. Highlights include "Booty Lab," "Floor Play," and "Stripping the Superhero," which focuses on creating nerd-esque and pop culture based acts. Workshops run from 1pm Friday (Sept.19th) to 3:30pm on Sunday (Sept. 21st), and all of them take place at The Waterbury Ballroom on the 2nd of floor of The Sheraton Hotel (500 Canal St.).
"Our workshops are open to anybody that wants to learn," said Delaup. "From amateur performers learning burlesque as a hobby to pros looking to polish their performance."
Keeping in line with Delaup's enthusiasm for the history of burlesque, the festival will also prominently feature two legends of the art-form. The first is Bourbon Street legend Rita Alexander the Champagne Girl. A fixture in the heyday of NOLA burlesque, Miss Alexander will be signing her old glamour photos and as well her new book, A Taste of Me: Poems by Rita Alexander. Also appearing over the course of the weekend is Leslie Zemeckis, award winning documentarian and writer, director, and producer of Behind the Burly Q, an exploration of the golden age of American burlesque. She'll be signing her book of the same name. Both women will no doubt be crashing several performances and parties all weekend.
Delaup insisted that the French Quarter during Burlesque Fest is itself a component of the event. "It's very interactive," he said. "All weekend these burlesque performers get to explore the city, attend parties, and meet and mingle with their fans."
For more information about the New Orleans Burlesque Festival, including ticket and hotel information, visit their website here.
Image courtesy of the New Orleans Burlesque Festival.